One X-Men Stunt Actually Numbed Storm's Crotch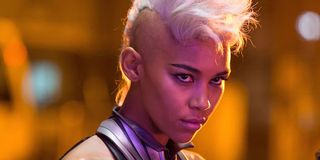 The X-Men have gone through different iterations on the big screen over the years, and we'll see them back in action when X-Men: Dark Phoenix hits theaters later in 2018. Among the actors and actresses set to appear in Dark Phoenix is Alexandra Shipp, who will be reprising her role as Storm in the upcoming movie. During a recent appearance on Conan the actress revealed that while she liked doing Storm's various stunts for X-Men: Apocalypse, they had one unintended side effect: totally numbing her crotch region. Of her lady bits, the actress said:
Although I've worn a harness for zip-lining previously, Alexandra Shipp's issue is not one I have previously encountered, so I'm not sure if this is something a lot of ladies deal with while climbing, etc? Conan O'Brien seemed briefly stumped as to how to respond to her comments, too, but he eventually cracked a self-deprecating joke about "putting other vaginas to sleep." Apparently, though, Shipp spent enough time in a harness that it caused some major problems down south--and from what she had to say about the experience, it may have been something Halle Berry also had to deal with when she played Storm in some of Fox's earlier X-Men movies. She did also note though that stunts can be fun, and that it's "warm and fuzzy" when she gets to throw make-believe punches and the stunt people react to her. So, there's both good and bad stuff she seems to have taken out of those moments.
Those familiar with Storm in the MCU should know that while her main focus is messing with the weather, part of her abilities include flying, which is likely where the harness work comes in for Alexandra Shipp. Shipp may have even more time to shine in X-Men: Dark Phoenix, as she didn't officially join the X-Men until the end of X-Men: Apocalypse. Any additional screentime coming up likely means more additional numb time, but don't take my word for it. You can see Alexandra Shipp telling the story, herself.
Alexandra Shipp will be back in action when X-Men: Dark Phoenix hits theaters on November 2, 2018. To find out what else is in store for the movie, you can take a look at what we know about the upcoming flick. And, of course, you can catch some X-Men action when Deadpool 2 hits theaters on May 18.
Your Daily Blend of Entertainment News
Reality TV fan with a pinch of Disney fairy dust thrown in. Theme park junkie. If you've created a rom-com I've probably watched it.