This Rotten Week: Predicting Ready Player One, God's Not Dead 3 And Acrimony Reviews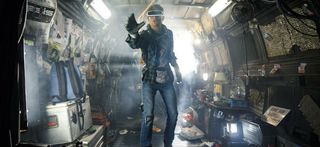 We have already seen a number of major blockbusters released in 2018, but still it's special whenever we are getting a new Spielberg blockbuster. And not only that, but we have two other features on the docket. This week's movies take us to the world of virtual reality, a burned down church, and a woman looking for revenge on her husband. Let's take a look at Ready Player One, God's Not Dead: A Light in the Darkness, and Acrimony.
Just remember, I'm not reviewing these movies, but rather predicting where they'll end up on the Tomatometer. Let's take a look at This Rotten Week has to offer.
Imagine the ultimate treasure hunt: an escape into virtual reality to find life-altering fame and fortune just by knowing a lot of crap about 80's pop culture. That's what you get in Ready Player One, the film adaptation of Ernest Cline's 2011 novel of the same name. And the book is a lot of things. It's a look ahead to a frightening future "reality." It's a "chosen one" tale about an underprivileged kid who games the system out of sheer hard work and smarts. And it's an homage to the 80's and all its cheesy music, television, movies and more. Steven Spielberg's adaptation looks fantastic, in many ways even bigger than the words on the page.
Critics seem to feel the same way about it following its early world premiere at the SXSW Film Festival. It is currently sitting at 81% with more than fifty reviews counted. Ready Player One is being praised for its visuals, lighthearted nature, frenetic energy and ability to rework the source material into a big budget hit. I don't expect it to move much at all as we get closer to the theatrical release.
He's back! Every year it's fun to take a trip down the Tyler Perry Tomatometer roll and do a quick summary of how poorly this guy's movies are reviewed. And now that Acrimony is on the way, now is the perfect time to do it again. Let's take a quick glance of the last ten:
Boo! A Madea Halloween (23%)
Boo2! A Madea Halloween (6%)
The Single Mom's Club (19%)
A Madea Christmas (20%)
Temptation (15%)
Witness Protection (20%)
Good Deeds (30%)
For Colored Girls (32%)
Why Did I Get Married Too? (27%)
Madea Goes to Jail (28%)
It really doesn't get any better if we keep going back, but suffice to say Perry has directed 15 movies in the last decade-plus, and the average Tomatometer score is a whopping 25%. It's hard to imagine this latest puts him on the winning track. It looks like your typical romantic thriller schlock with a woman coming to grips with the fact that her husband is a piece of cheating garbage. Most of these movies wind up being echoes of each other, and I imagine Acrimony mirrors the critical response to most of his work.
In case you were under the impression that God was dead, this film series is here to say otherwise. They tried the first time with God's Not Dead (14%). Then they followed it up with the (unbelievably) even worse-reviewed, God's Not Dead 2 (9%). Now they're really throwing caution to the wind with a third in the series: God's Not Dead: A Light In Darkness. Will it somehow find a way to finish with an even lower Tomatometer score? We are about to find out.
This is the story of a church getting burned down because people don't want the church around and the pastor who wants to save the church to prove the title of the film is true. Like the previous chapters, it looks really bad. Christian-based wide releases are coming at us hot and heavy in the short term (seems like there's one every week), and almost all of them score poorly with critics. This one will too.
We didn't have a great showing last time around. And while I'd like to think I had the tone of the reviews generally correct, I only had two of the five predictions fall within an acceptable range.
Steven Soderbergh's Unsane (Predicted: 70% Actual: 78%) was one of the wins. It stuck in line with the early reviews, and makes for another critical win for the acclaimed director, proving no genre can hold the guy. Critics appreciated the jumps and jolts as well as the commentary about the role of "truth" in our current social climate - not to mention the iPhone-born cinematography.
Pacific Rim Uprising (Predicted: 52% Actual: 46%) was the other prediction that fell within range, scoring considerably lower than the first in the series. This one looked rather messy from the trailer, and it was tough to imagine it building all that much on its predecessor. Comparison's the Transformers movies weren't complimentary, and a majority of critics saw it as silly and over-the-top.
Then we get to the losses. Paul, The Apostle of Christ (Predicted: 55% Actual: 35%) was a miss, and I probably should have seen this coming. As with many Christian-based movies, few critics even made it to the theaters. It ended with only 23 total reviews, incredibly low for a widely-released movie. Most felt that the performances were fine enough, with the story driving down the entire production.
Sherlock Gnomes (Predicted: 40% Actual: 21%) was just a flat-out mistake. I was surprised when I looked back and saw 40% as the prediction considering how bad I thought the trailer looked and the other mistakes coming from the studio. But alas, it goes into the record books as a loss and I'm left wondering what I was thinking with the initial guess.
And finally, I would love to consider Midnight Sun (Predicted: 39% Actual: 21%) a win considering how silly I thought the premise looked and how I basically just made fun of the plot. But I suspected the vanilla tone of the movie would keep it out of the critical basement. I was wrong there and this one ends up being pretty damn bad.
Next time around we've got Blockers, Chappaquiddick, The Miracle Season and A Quiet Place. It's gonna be a Rotten Week!
Your Daily Blend of Entertainment News
Doug began writing for CinemaBlend back when Terminator: The Sarah Connor Chronicles actually existed. Since then he's been writing This Rotten Week, predicting RottenTomatoes scores for movies you don't even remember for the better part of a decade. He can be found re-watching The Office for the infinity time.