Stephen King And Steven Spielberg Almost Did Poltergeist Together, Here's What Happened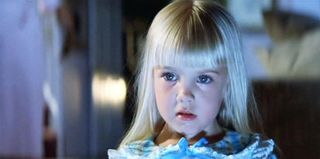 Stephen King and Steven Spielberg are a pair of iconic creators who both came to prominence around the same time. It seems insane the pair have never worked together. Yet, they almost did. The two recently revealed that back in the early 1980s when Steven Spielberg was producing, and possibly also directing, Poltergeist, he wanted Stephen King's help punching up the horror script. Unfortunately, time was of the essence, and, as this was 1982, communication wasn't always as easy as it is now, and the author was completely inaccessible. As the pair explained...
As Stephen King explains further to Entertainment Weekly, he was on a ship crossing to England, and so was somewhere in the middle of the Atlantic Ocean when Steven Spielberg was trying to reach him. By the time King had arrived at his destination and received the message the director was trying to get in touch with him, Spielberg had already moved on.
It's amazing that something as small as the lack of access to a phone is what kept Steven Spielberg and Stephen King from working together. If this were happening today there would be a half dozen different ways to get a hold of somebody, and while internet access in the middle of the ocean is usually not cheap, it's certainly an option. While there are many downsides to people being in perpetual contact, it does allow for nearly instant collaboration between people all over the world. Even if King had been free to work in London at the time, it would have been difficult for the pair to really collaborate across the world like that in 1982.
Poltergeist still ended up as a solid and well-regarded horror movie, so it looks like Stephen King's help wasn't strictly necessary. Still, it certainly makes one wonder what King would have done with the script.
Since 1982 the pair has not found anything else to work on together, which seems nuts. You'd think that if the two of them were that into working together they would have found something by now. For what it's worth, Steven Spielberg has said that he's very interested in turning The Talisman, King's novel co-written with Peter Straub, into a movie, and has even said he thinks that it could happen in the next couple of years, so perhaps this pairing that seems so obvious will finally happen, only 40 or so years late.
CinemaBlend's resident theme park junkie and amateur Disney historian. Armchair Imagineer. Epcot Stan. Future Club 33 Member.
Your Daily Blend of Entertainment News
Thank you for signing up to CinemaBlend. You will receive a verification email shortly.
There was a problem. Please refresh the page and try again.