How Charlize Theron Gained 50 Pounds For New Movie Tully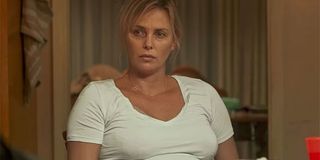 A lot of times actors have to gain muscle or lose weight for roles. Exercising and eating clean are two key components of getting in shape for a movie, and doing that for months on end can be tough. However, we talk less often about how tough it can actually be to pack on weight for a role. Charlize Theron recently packed on the pounds for the new Jason Reitman movie Tully, and she was very blunt in a recent interview when she explained exactly how she gained 50 pounds for the new movie. According to the actress,
Seriously, I was snacking on some crackers while writing this and the further I got into unpacking Charlize Theron's comments, the less and less appetizing eating became. There's nothing like having a day where you throw back an awesome cheeseburger and fries -- and hey, maybe even a milkshake, I'm not judging. Regardless, there also have to be days in between where you, like, actually consume vegetables, and from what Charlize Theron has stated in interviews, there were no breaks from eating poorly. She's normally a fit person, but for this movie, she spent three and a half months gaining weight for the role and ultimately got to where she thought the character should be.
Charlize Theron also told ET that things took a turn for the worse after she started setting that alarm when she had to eat. Seriously, her description of eating cold dairy in the middle of the night may put you off your appetite, so you have been forewarned. She said:
It's not that Charlize Theron was force fed, but in order to obtain her goal, she was forced to get up and eat. The result helped her to get into her character's mindset in Tully, but it also affected her personally. The actress says she dealt with depression while gaining weight for the role, noting she "was not that fun to be around" when her weight was so high. She also has said it took her a year and a half to lose the weight that only took a few short months to put on. She's back in shape and away from the processed food diet these days, but she'll always have the reminder of the process she went through, at least she will always have that reminder once Tully hits theaters and later, homes. You can catch Tully when it is officially released this weekend, or check out our full schedule of what flicks are coming up.
Reality TV fan with a pinch of Disney fairy dust thrown in. Theme park junkie. If you've created a rom-com I've probably watched it.
Your Daily Blend of Entertainment News
Thank you for signing up to CinemaBlend. You will receive a verification email shortly.
There was a problem. Please refresh the page and try again.