What Really Happened Between Charlize Theron And Tia Mowry At SoulCycle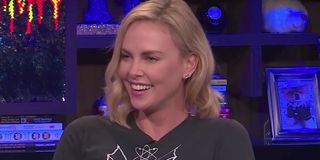 Academy Award-winning actress Charlize Theron recently cleared up rumors about a beef between her and, of all people, Tia Mowry. Supposedly problems originated between the two stars in 2014. Back then, Mowry told a tabloid magazine Theron had been rude to her at a SoulCycle gym they both attended. However, in a recent interview, Theron indicated the purported interaction was not such a memorable one for her. In fact, Theron suggested the negative interaction never happened. But before answering questions about the feud, Theron joked:
Charlize Theron was only teasing with the harsh words. She clarified the story had made its way to her. Theron questioned whether the statement was verbatim what Tia Mowry said or if someone had merely taken Mowry's words out of context and built a story around them. Andy Cohen explained the story came from a tabloid magazine, so Theron shrugged off the legitimacy of the report. In fact, Theron said she usually feels extra friendly after working out at SoulCycle because the endorphins make her happy. Therefore, Theron was not sure how such an interaction could have taken place. However, the Mad Max: Fury Road star did admit she can be fierce sometimes. Theron explained:
You can check out the whole conversation from Watch What Happens Live with Andy Cohen below:
Back in 2014, Tia Mowry allegedly dished to InTouch and talked about seeing Charlize Theron at the SoulCyle gym. In the story, Mowry supposedly dragged Theron over the coals and said:
Then the plot thickened when a follow-up story claimed Charlize Theron had asked the SoulCycle gym to ban Tia Mowry for badmouthing her to the press. This aspect of the story remains a mystery, even after Theron's interview with Andy Cohen. Still, from the sound of it, the original story might have had discrepancies. Plus, if Theron did not even remember the negative interaction, she most likely never tried to get the Sister, Sister star banned from the gym.
Moreover, Tia Mowry came out in support of Charlize Theron after the original story surfaced. Mowry told E! News that the press was taking the story about the feud to a new level. She emphasized how much she loves Theron and said she is a little bit "obsessed with her." Therefore, it sounds like we can chalk this feud up to a bit of media fantasy.
Your Daily Blend of Entertainment News