14 Huge Movies Coming To Theaters This Summer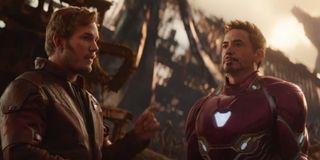 The summer movie season is finally upon is, and 2018 is going to be a doozy. Between secret agents, superheroes, assassins and dinosaurs, there's no shortage to the number of awesome adventures that the silver screen will bring us this year. With that in mind, we have put together a list of the biggest and best blockbuster movies that you need to keep an eye on this summer. We have so many great-looking movies to get to, let's kick things off with one of the MCU's most highly-anticipated films!
Avengers: Infinity War
Every year, there's a debate over which film officially kicks the blockbuster season into high-gear, but it's hard to deny that the Marvel Cinematic Universe appears to be taking point in 2018. Following on the heels of Black Panther, April 27 sees the release of Avengers: Infinity War, which is shaping up to be the biggest MCU outing to date by bringing The Avengers and the Guardians of the Galaxy together for the first time in the battle against Thanos.
Release Date: April 27
Deadpool 2
After the original film broke records upon debuting relatively unopposed in a February release, Deadpool 2 is about to get even more competitive by hitting theaters between two massive Disney projects. Of course, there's plenty to be excited about, because The Merc with the Mouth has never looked funnier, cooler or more badass than the recent trailers have led us to believe. Now let's just hope that the unassuming Peter can steal the show.
Release Date: May 18
Solo: A Star Wars Story
Despite a rocky production that saw original directors Phil Lord and Chris Miller fired and replaced by Ron Howard, Solo: A Star Wars Story remained on schedule and will debut in theaters on May 25. The film will chronicle the early years of the fan-favorite Star Warsfranchise smuggler, and we cannot wait to see how this new tale informs what we already know about the character made famous by Harrison Ford in A New Hope.
Release Date: May 25
Ocean's 8
The heist genre is about to get a feminine touch as the Ocean's franchise moves away from George Clooney's Danny Ocean in favor of Sandra Bullock's Debbie Ocean. Centering on the sister of the former franchise hero, Ocean's 8 will follow our new (and star-studded) group of lady thieves as they embark on a mission to rip off the Met Gala and get away with millions of dollars in jewelry.
Release Date: June 8
Incredibles 2
This summer will see a lot of live action superheroes appear on the big screen, but there's also a major source of heroism in the animated world as well. Incredibles 2 is finally going to debut after years of anticipation, and all eyes are on Brad Bird's highly-anticipated sequel to his 2004 classic to blow us away when it finally does. Now it's a question of waiting to see how this superfamily will work in a genre saturated by other heroes.
Release Date: June 15
Jurassic World: Fallen Kingdom
The park may be gone, but the dinosaurs are still there -- it's just a question of how long they can survive with a volcano looming. Equal parts horror film and disaster movie, Jurassic World: Fallen Kingdom will follow our heroes as they return to the island in order to save the genetically-modified creatures from a natural disaster. On the heels of Jurassic World's blockbuster success in 2015, there's quite a bit to be excited with this next go-around.
Release Date: June 22
Sicario: Day Of The Soldado
In a move that few could've seen coming a few years ago, Sicario is about to get a badass sequel focusing on Benicio Del Toro's Alejandro and Josh Brolin's Matt Graver. With filmmaker Stefano Sollima in the director's chair this time around, the sequel will see Alejandro go on the run to protect a young girl that the United States government (including Graver) insists be disposed of. Sicario: Day of the Soldado looks violent, intense and brutal in all of the ways that we would hope to see.
Release Date: June 29
The First Purge
As one of Blumhouse's best franchises, The Purge series has shown increasing audacity in its willingness to provide poignant satire on the modern political landscape. That's set to continue later this year when The First Purge chronicles the events of the first evening in which all crime is legal in the United States, though the movie will only be contained to one neighborhood this time around. In summer full of action and comedy, expect The First Purge to deliver some major frights as well.
Release Date: July 4
Ant-Man And The Wasp
Following the release of Avengers: Infinity War, things are about to get considerably smaller with the debut of Ant-Man and The Wasp. The sequel will follow Scott Lang (Paul Rudd) as he formally teams up with Hope Van Dyne (Evangeline Lily) to take on a brand-new enemy called Ghost, who largely remains a mystery to us at this stage of the film's marketing campaign. Moreover, the film is also expected to deal with the fallout of Captain America: Civil War, so Marvel fanboys and fangirls won't want to miss it.
Release Date: July 6
Skyscraper
The April release of Rampage won't be the only blockbuster that we see Dwayne Johnson star in this year, as the behemoth action hero is already lining up for his next big film. Skyscraper will channel some of the best DNA of Die Hard and The Towering Inferno into one badass action/disaster movie, seeing Johnson star as a security expert forced to save his family from a hostage situation in an impossibly tall building.
Release Date: July 13
The Equalizer 2
Following the surprising success of The Equalizer, Antoine Fuqua and Denzel Washington have once again teamed up to bring back Robert McCall back for yet another ultra-violent journey into the crime/spy world. This time around, a close friend and colleague of McCall's is murdered, and the CIA badass goes on a one-man rampage to get answers and revenge. The film looks absolutely brutal, which is precisely what we want from a story like this.
Release Date: July 20
Mile 22
Mark Wahlberg and Peter Berg have done some great work together over the course of the last few years, taking on true stories of American heroism in films like Lone Survivor, Patriots Day and Deepwater Horizon. Next on deck for them is Mile 22, the story of an American intelligence officer tasked with smuggling sensitive information out of a foreign country. Wahlberg is taking center stage, with a talented supporting casting consisting of Ronda Rousey, John Malkovich, Lauren Cohan and many more.
Release Date: July 20
Mission: Impossible - Fallout
The Mission: Impossible franchise is one of those rare film series that seems just to get better and more fun with age. It's riding high after the blockbuster success of Rogue Nation, and now it looks like it will get even more intense with the upcoming debut of Mission: Impossible -- Fallout. The series is already known for badass stunts, and this one makes it look like Tom Cruise has taken it to the next level, injuries and all.
Release Date: July 27
The Meg
No summer blockbuster season would be complete without a cheesy, self-aware monster movie. Luckily, that's where The Meg comes into the equation. Leading us into August, the giant shark movie will feature Jason Statham, Ruby Rose, Rainn Wilson and many more as a group of scientists in a desperate battle against an enormous, prehistoric shark. The first trailer for The Meg recently dropped, and it already looks like one wild ride that we won't want to miss.
Release Date: August 10
Your Daily Blend of Entertainment News
Originally from Connecticut, Conner grew up in San Diego and graduated from Chapman University in 2014. He now lives in Los Angeles working in and around the entertainment industry and can mostly be found binging horror movies and chugging coffee.