Super Troopers 2 Makes Me Miss The Grinder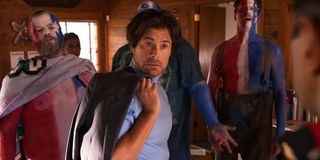 Some basic spoilers for Super Troopers 2 can be found throughout this story. So, if you haven't caught the flick, yet, we can just agree The Grinder is great and you can move on with your day.
A couple of years ago, Fox released a new TV series that combined elements of a buddy comedy with self-referential Hollywood tropes. That comedy was the short-lived The Grinder, an offering that teamed up Fred Savage --back for his first starring role on network TV since Working and Crumbs -- with consummate TV professional Rob Lowe for 22 glorious episodes. The show was weird, smart and funny. Naturally, it was cancelled, and pushed into the back of TV fans' minds where all good cancelled series go, at least until the guys at Broken Lizard brought us Super Troopers 2 right meow.
Super Troopers 2, in fact reunites not two but four alums of The Grinder. In it, Rob Lowe plays a former minor hockey league professional and current mayor of a small Canadian town that will soon be handed over to the Americans. Fred Savage plays, well, Fred Savage, a character who is referenced frequently early on only to finally pay off in the post-credits scene. And Jay Chandrasekhar, who directed four episodes of The Grinder during its 2015-2016 run, also directed Super Troopers 2; he is also back playing Thorny in the long-awaited sequel. Emmanuelle Chriqui also popped up in a couple of episodes of the Fox comedy before signing on for a bigger role in Super Troopers 2. That connection is how they came to work together again, as Rob Lowe told Collider a few months ago that it was the shared love of creating the Fox series that enticed Lowe to join the cast of Super Troopers 2.
To be clear if you haven't seen Super Troopers 2, Rob Lowe and Fred Savage don't share any screen time. There's none of the Odd Couple sensibilities of The Grinder to be found in the latest movie from the Broken Lizard guys, and Rob Lowe is even affecting a bad French Canadian accent the entire time. As much as I probably would have approved if Rob Lowe had just been playing Dean Sanderson playing Guy LeFranc in Super Troopers 2, it wouldn't have ultimately worked for the storyline or have been in line with the type of humor the Broken Lizard guys have always been known for. ("Penis in the asshole." Oh, "Happiness in the household.")
But what Super Troopers 2 capably -- and wholly inadvertently -- does is remind us how dynamite a team-up between Rob Lowe, Fred Savage and Jay Chandrasekhar can be. Some of the funniest material comes from the two Grinder leads in the movie. (Although shout-out to some of the great conversations and insults from the Canadian Mounties in the movie, as well.) And even though the material is very different, I kept getting one-two gut punches of emotion when I saw Rob Lowe, and later Fred Savage, onscreen. That's really a feat for a movie like Super Troopers 2 to pull off.
If Super Troopers 2 proves anything, it's that Jay Chandrasekhar, Rob Lowe and Fred Savage are dynamite together. These days we may not be able to catch them over on Fox anymore, but Super Troopers 2 makes us fondly reminisce about the network comedy that was killed too soon. Sure, The Grinder is over and those involved have moved on to other endeavors. But what if it wasn't?
Your Daily Blend of Entertainment News
Reality TV fan with a pinch of Disney fairy dust thrown in. Theme park junkie. If you've created a rom-com I've probably watched it.