The First Super Troopers 2 Trailer Shaves The Balls And Brings The Laughs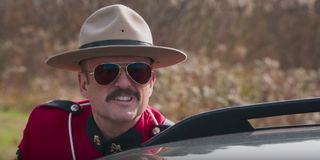 Sixteen years after making their official debut on the Vermont highway, everyone's favorite slacker cops will soon gear up for another adventure. Super Troopers 2 is officially on the way, and a hilarious first trailer for the long-awaited sequel has finally dropped. Check it out below and see all of the gut-busting and ball-shaving greatness for yourself. Keep in mind;it's quite NSFW. This is Super Troopers, after all.
Since Mac was the one who wore the "bullet proof cup" in the first film, I guess it's only fair that Rabbit has to get his balls shaved (by an enthusiastic Farva) this time around. With this trailer finally on the web, it's beginning to look like Super Troopers 2 is aiming for more of the same, and that's a good thing. The first film's formula will hopefully continue to work with audiences sixteen years later, and the sequel feels like a return to a familiar and fun universe. All of the characters appear to remain consistent with the people they were at the beginning of this franchise; Ramathorn is still the leader, Mac is the wild card, Rabbit still gets treated like a rookie, and Farva continues to make an ass out of himself at every conceivable turn.
The sequel is even going to bring back stand-up comedian Jim Gaffigan, which means that we can meow confirm that there will be plenty of callbacks to some of the original film's most iconic jokes.
Despite our enthusiasm for these callback jokes, something tells us that there will be plenty of new material as well (not to mention a new character played by Rob Lowe). The Broken Lizard troupe has made no secret of the fact that it has mined many of the best Super Troopers jokes from real life experiences -- such as someone swallowing twelve psychedelic mushrooms on a road trip to Canada. With sixteen years and other cult classic movies (see: Beerfest) separating the original Super Troopers from modern audiences, the gang has had enough time to perfect the script, story, and character moments.
Aside from the fact that this trailer looks utterly hilarious, it's worth mentioning that there's already quite a bit of fan enthusiasm for this franchise to return. The Broken Lizard crew crowdfunded the budget for Super Troopers 2 on Indiegogo and made a ton of money in the process. The gang not only reached the goal of a $2 million budget in a little over a single day, but they also doubled the projected goal -- handily turning Super Troopers 2 into one of the most successful Indiegogo campaigns for a film ever. If the sequel can live up to that hype, then we may potentially have one of 2018's best comedies on our hands.
Super Troopers 2 will debut in theaters on April 20, 2018 -- which, let's be honest, is probably the best possible release date. For more information on the rest of 2017's major theatrical releases, take a look at our comprehensive movie premiere guide!
Originally from Connecticut, Conner grew up in San Diego and graduated from Chapman University in 2014. He now lives in Los Angeles working in and around the entertainment industry and can mostly be found binging horror movies and chugging coffee.
Your Daily Blend of Entertainment News
Thank you for signing up to CinemaBlend. You will receive a verification email shortly.
There was a problem. Please refresh the page and try again.