Why Keeping Avengers 4's Title A Secret Has Backfired, According To Kevin Feige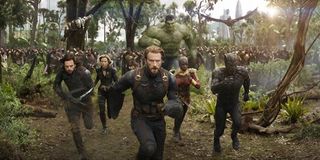 In 2014, when Marvel Studios announced its exciting and ambitious Phase 3 slate of films, the culmination of that slate was set to be Avengers: Infinity War Part II. However, along the way, that changed with the movie releasing this week(!) to be titled Avengers: Infinity War, sans Part I and the title of Avengers 4 being kept a secret. Naturally, because this is Marvel and speculation is part of the fan experience, this has led to much curiosity about the Avengers 4 title and what it means for the future of this cinematic universe. But according to Marvel Studios President Kevin Feige, keeping the title of Avengers 4 was never meant to be such a big deal, as he explained:
Kevin Feige's explanation to IGN makes sense. Marvel and Disney as a whole tend to like to keep the focus and promotion on the film that is coming out next versus having people look too far ahead. That is why you didn't see anything from Solo: A Star Wars Story before The Last Jedi released or Rogue One before The Force Awakens. With Marvel having announced its slate, that does make things trickier, but you still don't see much from a film until it's the next in line for release. (Although we have gotten a trailer for Ant-Man and The Wasp at this point.) Avengers: Infinity War is the biggest Marvel movie ever, so it is unsurprising that the studio is doing it's best not to shortchange it by letting the focus shift to what's next. Despite that, with this franchise, perhaps more so than any other save Star Wars, secrecy of any kind breeds speculation and hype. So now, Marvel is in the unenviable position of needing a title to blow people away because of all the fervor around what the movie will be called.
As Kevin Feige mentioned, the excitement around the Avengers 4 title may have gotten out of hand, to the point it will never live up to expectations, but to be fair, not everyone has played down the importance of the title. The Russo brothers recently implied that the title of Avengers 4 should scare us. That is not the best recipe for hype reduction. There has also been speculation that the title itself is a spoiler and could give away something about what happens in Infinity War. When Infinity War Part II was unnamed, we heard that it was because this isn't a true two parter and these are separate stories with a narrative thread, but that very ambiguity is what makes the title of Avengers 4 so interesting. If it is Avengers: Infinity Gauntlet, we would know that Thanos gets all the bling he's after, and if it is something like Secret Wars or Annihilation we would know that the Thanos arc is wrapped up in one film.
The way this secrecy backfired does make me wonder if Marvel will announce its full Phase 4 slate ahead of time after Avengers 4. It is cool to know what's coming and get excited for it, but it would have also been a ton of fun to walk into Infinity War not knowing what was coming next, only for the credits to read, "The Avengers will return next year." I have a feeling that Marvel will play things much closer to the vest next time around.
We've heard in the past that the title of Avengers 4 won't be revealed until some time after Infinity War. While we don't know exactly how long after we will have to wait, the clock starts ticking this week as Avengers: Infinity War hits theaters on April 27th. Here's what we know about the upcoming film.
Nick grew up in Maryland has degrees in Film Studies and Communications. His life goal is to walk the earth, meet people and get into adventures. He's also still looking for The Adventures of Pete and Pete season 3 on DVD if anyone has a lead.
Your Daily Blend of Entertainment News
Thank you for signing up to CinemaBlend. You will receive a verification email shortly.
There was a problem. Please refresh the page and try again.