One Callback Scene In Super Troopers 2 That Really Works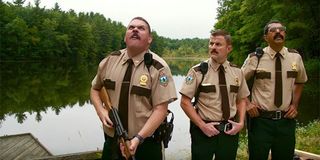 Warning: mild spoilers ahead for Super Troopers and Super Troopers 2! Read ahead at your own risk!
Mother of God... Super Troopers 2 has finally debuted, and the nearly two-decade wait has finally come to an end. There was quite a bit of fanticipation in regards to how the Super Troopers sequel would handle some of the most iconic gags from the original film, and we can thankfully now confirm that the callbacks to 2001's Super Troopers largely work. In fact, one of the best gags in the entire movie comes with the return of stand-up comedian Jim Gaffigan for another round of The Cat Game.
Structurally, both gags start the same way. Mac (Steve Lemme) and Foster (Paul Soter) pull over Larry Johnson (Jim Gaffigan) on the side of the freeway in an attempt to have some fun with him. In Super Troopers, it involves playing The Cat Game -- a game in which one of the cops has to set a record for the number of times that they can sneak the word "meow" into conversation during the traffic stop. In Super Troopers 2, Johnson remembers the cops from their encounter years earlier (how could he not?), and the ensuing gag is an increasingly-desperate attempt for him to jog their memories. Both work, and both work for very different reasons.
The key here is that Super Troopers 2 does not recycle The Cat Game and offer it up in the same fashion, but with a brand-new victim. Instead, Broken Lizard seems to understand that we have already seen this joke before and that it will never live up to the legacy of the original Cat Game -- something that Super Troopers fans still play to this very day. Rather than try to recapture the glory of an old joke completely, Super Troopers 2 puts a spin on it by letting Larry Johnson be the one who's having fun, with the cops dumbfounded about what's going on. On top of all of that, the bit ends with an out-of-nowhere finale (which we won't fully give away here) that perfectly punctuates the return to the Super Troopers universe and amps up the joke by a notch or two.
Looking ahead to the future, one would hope that this shows promise for other potential sequels that we could see Broken Lizard get to work on next. Of course, there has been talk of Beerfest 2/Potfest for well over a decade, and Broken Lizard even told CinemaBlend that the success of Super Troopers 2 could go a long way toward getting the wheels turning on Potfest. Given the way they handled callback jokes in this movie, it instills quite a bit of hope in the possibility that they will evolve classic gags from Beerfest (perhaps the classic "what's a ZJ?" joke?) and try something new with old concepts.
Super Troopers 2 is currently in theaters and gaining some solid box office traction in the process. If you are on the lookout for more information about the long-awaited comedy sequel, then make sure to read our full review, and check out our comprehensive review roundup as well. Then, once you have actually seen Super Troopers 2, head over to our Rate and Discuss column to dive into spoilers!
Your Daily Blend of Entertainment News
Originally from Connecticut, Conner grew up in San Diego and graduated from Chapman University in 2014. He now lives in Los Angeles working in and around the entertainment industry and can mostly be found binging horror movies and chugging coffee.