What To See If Infinity War Is Sold Out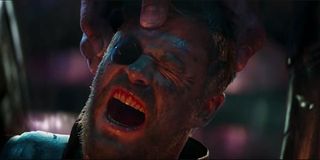 Chances are that if you read this site, there is no question of what movie you'll be seeing this weekend: Avengers: Infinity War is finally here and years of build and anticipation will at long last pay off in an unprecedented cinematic event. Judging by the numbers and just basic common sense, if you see Infinity War this weekend you will not be alone in a half-empty theater. The Russo Brothers' film is the best advance-selling superhero movie of all time and early tracking gives the Marvel movie a shot at dethroning Star Wars: The Force Awakens' incredible $247.97 million domestic opening weekend.
These numbers are as grand as you would expect and I imagine that a week from now we'll be trying to wrap our heads around this film's performance, but there is one reality that is worth considering: What do you do if Infinity War is sold out? A nightmare scenario to be sure but if you didn't pre-order tickets ahead of time, even though this movie will be dominating most theater screens, it's a legitimate possibility that it's sold out when you want to see it. Should this happen, you could just write off the movies this weekend and wait until you can see Infinity War, or you could give something else a chance.
You'll see Thanos versus the Avengers sooner or later, just be sure to stay off of social media until you do. But there is a great variety of good movies in theaters right now that don't feature Earth's Mightiest Heroes. The following films are all fun, entertaining and different and they are all certified fresh on Rotten Tomatoes. Here are the movies you should see if Infinity War is sold out.
Blockers
A huge component of the Marvel film formula that has made the MCU so successful is humor. So if you were looking to laugh this weekend and you don't mind your humor being a bit (see: a lot) raunchier than the humor you'll see in a Disney movie, look no further than Blockers. Kay Cannon's directorial debut far exceeded the low critical expectations that teen sex comedies usually have. The film stars Leslie Mann, Ike Barinholtz and John Cena as three parents determined to stop their teenage daughters from completing a pact to lose their virginity on prom night. It has been praised for its humor, performances and heart. With I Feel Pretty and Super Troopers 2 releasing last week, Blockers has quickly fallen out of the public conscious but it is worth your time and a good way to put a smile on your face after missing out on Infinity War.
Ready Player One
If you were craving a fun, blockbuster film experience, complete with huge battles and incredible special effects, Steven Spielberg's latest film, Ready Player One, is a pretty good consolation prize. The film isn't perfect but the complaint that it is just superficial nostalgia isn't remotely accurate. Ready Player One is an absolute blast and you're bound to have a smile on your face the whole time the characters are in the virtual world of the OASIS. This is the kind of movie that deserves to be seen in 3D on the biggest screen possible. Ready Player One has done exceptionally well at the international box office and with a sequel novel on the way, I wouldn't be surprised to see a sequel film in the coming years. A Steven Spielberg blockbuster is something no film fan should ignore and there is arguably no better substitute for the spectacle of Infinity War than Ready Player One.
Isle of Dogs
I wanted to include something of a more independent nature on this list and while Disobedience with Rachel Weisz and Rachel McAdams releases this weekend, it isn't playing everywhere. Isle of Dogs is now in wide release and provides a great entry point for those unfamiliar with Wes Anderson. The director's films aren't for everyone, but Isle of Dogs is a beautiful movie that is suitable for audiences of most ages. The charming stop-motion film follows a boy who sets out in search of his dog in a future Japan. Pretty far on the cinematic spectrum from Infinity War, Isle of Dogs represents a great opportunity for those feeling adventurous to expand their horizons with something completely different. Like most Wes Anderson films, Isle of Dogs boasts an incredible voice cast and is a cinematic achievement that is different than Infinity War, but still impressive and worth seeing.
Black Panther
What better way to sate an MCU craving than to see this year's groundbreaking film in the franchise? At this point, we've long since had to start recycling superlatives to discuss Black Panther and its performance. This is one of Marvel's best films to date with a compelling villain and a real message. Black Panther is hitting Blu-ray next month, but revisiting Rachel Morrison's cinematography on the big screen one more time doesn't sound like a bad idea. Watching Black Panther again is actually a good refresher before Infinity War, which will have a huge battle take place in Wakanda. Black Panther is still playing in plenty of theaters and more than just being something to watch in lieu of elusive Infinity War tickets, Ryan Coogler's film would actually serve as a great double feature for those with tickets who want to maximize the marvelousness of this weekend.
A Quiet Place
With the majority of audiences packing theaters to the brim this weekend seeing Infinity War, there is arguably no better weekend to see John Krasinski's modern horror classic, A Quiet Place. This is a movie where maximizing the experience requires a silent theater where audience members are conscious of how much noise they make. But to be honest, the best theater would be one with fewer people in it and Infinity War guarantees that will be the case. This near-silent film is a brilliant counterpoint to the bombast and spectacle of Marvel's event movie. If you've been sitting out the horror renaissance of the last few years, there is no better film to catch up with. And hey, people are pulling for John Krasinski and Emily Blunt to be the MCU's Mr. & Mrs. Fantastic, so there is some hypothetical reasoning to check out what these two bring to the table for MCU fans.
Your Daily Blend of Entertainment News
Nick grew up in Maryland has degrees in Film Studies and Communications. His life goal is to walk the earth, meet people and get into adventures. He's also still looking for The Adventures of Pete and Pete season 3 on DVD if anyone has a lead.