The Weinstein Company Reportedly Owes Quentin Tarantino And More A Lot Of Money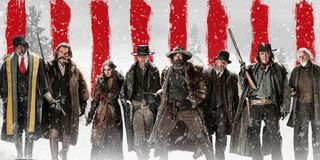 We've known for a while that The Weinstein Company was heading into bankruptcy, and once TWC filed it only seemed to be a matter of time before the issue would be resolved. However, it's not going to be easy. Filing for bankruptcy is a complicated process, especially when there are a slew of movies, actors, employees and projects in development on the line. This week, we learned that The Weinstein Company is taking bids in the hopes it can sell off some of its assets. However, this hasn't made Quentin Tarantino and a slew of other celebrities particularly happy. Here's what we know.
If The Weinstein Company sells off the assets in question, it could get the company like $310 million dollars, money TWC sorely needs. However, Quentin Tarantino and others are displeased about the company selling off properties as Tarantino and others feel they are still entitled to royalties related to titles they worked on under The Weinstein Company banner. According to THR, Quentin Tarantino has been a particularly vocal party in this dispute and has even sent off a letter explaining that he believes he is still owed a slew of royalties on movies he produced with The Weinstein Company. This includes The Hateful Eight, Grindhouse/Death Proof, Inglorious Basterds and Django Unchained.
In fact, Tarantino's lawyers are expressly claiming that he is owed nearly $4.5 million in royalties. That rounds out to a whopping $2.5 million for The Hateful Eight, $1.25 million for the successful Django Unchained, and lesser but still important numbers for the other two movies ($575k for Inglorious Basterds and $300k for his work on Grindhouse.) Quentin Tarantino's request are at the top of the pile in terms of monetary wants, but he is by no means the only person in Hollywood that is not pleased about The Weinstein Company heading into bankruptcy and messing with contracts that were long ago laid out. His lawyers are on the case, but so are Leondardo DiCaprio's, Rachel McAdams,' Jennifer Lawrence's and even Brad Pitt's, and this seems to be just the tip of the iceberg in terms of celebrities asking for money.
Per reports, some actors and actresses are on the same page as Quentin Tarantino. Meryl Streep worked with The Weinstein Company on August: Osage County, and is similarly concerned about how agreements are just going to be transferred via auction, as is Brad Pitt, who worked with The Weinstein Company on Killing Them Softly.
This is just the latest in a slew of problems that have plagued The Weinstein Company in the time reports about producer Harvey Weinstein's behavior came to light. First, there was talk that the company would be bought out and would be able to avoid bankruptcy that way. That fell through. Then there have been comments and concerns about some of the projects that The Weinstein Company owns being stuck in holding patterns, unable to either be released if completed or put into production if already in development. Now, this wrinkle about assets that the company already produced has come into question. It's going to be some time before all of this is worked out, and we'll be here every step of the way.
Your Daily Blend of Entertainment News
Reality TV fan with a pinch of Disney fairy dust thrown in. Theme park junkie. If you've created a rom-com I've probably watched it.
Your Daily Blend of Entertainment News
Thank you for signing up to CinemaBlend. You will receive a verification email shortly.
There was a problem. Please refresh the page and try again.