Two Marvel Characters Joss Whedon Almost Included In The Avengers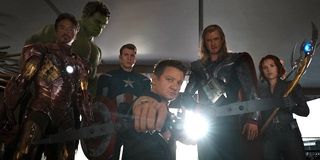 Avengers: Infinity War is taking the world by storm right now, but it's definitely not a movie that one can just walk into and enjoy without any prior Marvel Cinematic Universe experience. The latest Marvel blockbuster is building off of events that have unfolded across 18 prior films, with The Avengers being one of the more important entries. It was just six years ago that Earth's Mightiest Heroes were brought together for the first on the big screen, and The Avengers has remained one of the most popular superhero movies ever. However, had an earlier draft of The Avengers moved forward, the character lineup would have been slightly different, with The Wasp taking Black Widow's spot and Ezekiel Stane serving as a secondary villain. Director and writer Joss Whedon recalled:
Longtime Marvel fans know that Wasp was one of the founding Avengers, alongside Iron Man, Hulk, Thor and her crime-fighting partner Ant-Man, but the MCU opted to go in a different direction with its initial lineup, and Ant-Man and Wasp were left out of the excitement. Joss Whedon mentioned back in 2012 that Wasp was being considered to be one of The Avengers' leading heroes back when there was uncertainty regarding Scarlett Johansson's involvement as Black Widow, but a lot's changed since then. Three years after The Avengers' release and two months after Avengers: Age of Ultron dropped, Ant-Man buzzed into theaters, and while Evangeline Lilly's Hope van Dyne didn't suit up as Wasp alongside Scott Lang, we did see a flashback of her mother, Janet, as the superheroine. Ant-Man and the Wasp will finally see Hope donning her superhero guise, as well as fully introduce Janet (played by Michelle Pfeiffer), and a year later, Hope will get to team up with the MCU's other heroes in Avengers 4.
As for Ezekiel Stane, while Joss Whedon has said before he was interested in featuring a secondary villain, his interview with Thrillist is the first time that he's specifically said he had Stane in mind. Ezekiel was introduced in 2008 as the son of Obadiah Stane, a.k.a. the Iron Monger, who had died years earlier. Boasting his own technical prowess, Ezekiel recruited several super villains to Iron Man and later revealed himself to Tony Stark. Jeff Bridges' Obadiah met his demise in Iron Man, so it certainly would have been easy enough to set Ezekiel up as the son craving revenge against the man who defeated his father. However, within the narrative of Loki attacking Earth with the Chitauri army, it's probably for the best that Ezekiel was left out of The Avengers.
Stay tuned to CinemaBlend for more news about the MCU, and you can look through our handy guide to learn what other projects this franchise has in development.
Your Daily Blend of Entertainment News
Connoisseur of Marvel, DC, Star Wars, John Wick, MonsterVerse and Doctor Who lore. He's aware he looks like Harry Potter and Clark Kent.
Your Daily Blend of Entertainment News
Thank you for signing up to CinemaBlend. You will receive a verification email shortly.
There was a problem. Please refresh the page and try again.