What The Black Widow Movie May Be About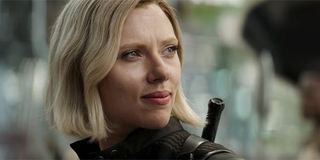 Since Black Widow made her Marvel Cinematic Universe debut in Iron Man 2, fans have been asking for a solo movie starring the Scarlett Johansson-portrayed character. Black Widow is a fan favorite, Johansson is a legit film star, so a solo film seemed inevitable. A few months back, the wheels finally began turning to make this a reality with the hiring of screenwriter Jac Schaffer to pen the film. Now we have an idea of what the Black Widow movie may be about: it could be a prequel that finds Natasha Romanoff living in the United States 15 years after the fall of the Soviet Union.
For those of you doing the math right now, that would put this prequel film around 2006 or so. The timeline of the MCU is hard to nail down, but that means that the Black Widow movie may be set two to four years before Iron Man and maybe an extra year before the character showed up in Iron Man 2. This news, first reported by That Hashtag Show, gives Marvel plenty of room to play with, as we don't know for sure what the MCU's Black Widow was up to during that time.
This time period could find Natasha Romanoff still working for some arm of Russian Intelligence, or it could take place after she defected and became an agent of S.H.I.E.L.D. Scarlett Johansson herself has spoken about wanting this film to be about Black Widow being free and having agency for the first time in her life and how that allows her to come in to her own. This timeline would put Natasha closer to the period when she was not making choices for herself, so we could see her deciding who she wants to be and what she wants to fight for.
Fans have long wanted to see the Budapest mission with Black Widow and Hawkeye that was mentioned in The Avengers, and this timeframe may open up that as a possibility. However, as of right now, it is looking more likely that the Black Widow movie may see her tangoing with the Winter Soldier. Sebastian Stan has spoken about this possibility in the past, citing the comics where the two have a more complicated relationship, as Bucky is a mentor and even lover to Natasha. This approach may require a bit of retconning of Captain America: The Winter Soldier, but seeing Black Widow in a gritty espionage movie opposite frenemy Bucky Barnes would be certainly be a different kind of Marvel movie.
This Black Widow news is interesting and seems to fall in line with the moves Marvel has been making of late. Largely a linear, forward-moving franchise, Marvel is showing that it is becoming more open to prequels if that's what works for a story or a character. Next year will see Captain Marvel set in the 1990s, and now this film may be set before the Avengers Initiative was conceived. Heck, maybe Agent Coulson will show up here too.
There are arguments to be made against going the prequel route, but this news, while unconfirmed by Marvel, would make things less complicated for a Black Widow solo film. A prequel allows Black Widow's fate in the films set in the 'present' to still be an open question. A prequel also eliminates the questions about why the Avengers don't intervene when Natasha is in trouble. If the Black Widow solo film is set before the emergence of superheroes, it could mean that this will be a grounded spy tale.
There is no director attached yet for the Black Widow solo film, and while it is rumored to fall into Marvel's early Phase 4 slate in 2020, that has not yet been confirmed. You can see the present version of Black Widow punching above her weight in the fight against Thanos when Avengers: Infinity War hits theaters on April 27. Check out our Marvel Cinematic Universe page for all the latest on the ever-growing franchise.
Your Daily Blend of Entertainment News
Nick grew up in Maryland has degrees in Film Studies and Communications. His life goal is to walk the earth, meet people and get into adventures. He's also still looking for The Adventures of Pete and Pete season 3 on DVD if anyone has a lead.