What Hasbro Should Do With The Next Power Rangers Movie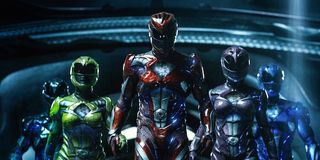 Since debuting in 1993, the Power Rangers franchise has had nearly consistent presence on television, with new teams being introduced every year or two. On the movie side of things, the Mighty Morphin' Power Rangers received their own movie in 1995, and Turbo: A Power Rangers Movie followed two years later. Then there was nothing until last year's Power Rangers, which took the classic Mighty Morphin' characters and rebooted them PG-13 style for a new generation. The results were underwhelming, with Power Rangers earning mixed reviews and only taking in $142 million worldwide, just $42 million above its budget. Despite fans and the movie's cast members being interested in a sequel that introduced Tommy Oliver, the Green Ranger, there's been no word on whether or not Power Rangers 2 is moving forward. However, a recent change behind the scenes could mean that this franchise still has a cinematic future, only that might come in the form of a reboot rather than a direct sequel.
Back in February, Saban Brands it was announced that after 25 years, it was ending its partnership with Bandai, and Hasbro subsequently became the new Power Rangers toy licensee starting in April 2019. At the time, this was certainly a big deal for the toy arm of the franchise, but there was also an option for Hasbro to buy the entire franchise in the future. That's exactly what happened, as yesterday Hasbro announced that it purchased Power Rangers and several other entertainment brands from Saban for $522 million. New toys are on the way next year, the TV arm of the franchise was already set to continue with Power Rangers: Beast Morphers and as far as we know, this won't affect the publication of comic books over at BOOM! Studios, so what does this mean for a new movie? Well, given Hasbro's willingness to adapt many of its properties for the big screen, this might mean that the company would be willing to give the Power Rangers a shot at cinematic redemption, but potentially on new terms.
Over the last decade, Hasbro hasn't shied away from developing live action movies based around its toy properties, with the Transformers film series being the most popular example. That's only going to grow in the coming years, because in addition to the Bumblebee spinoff arriving this December, G.I. Joe (a reboot), Micronauts, Dungeons & Dragons, Rom the Spaceknight and M.A.S.K. are all in development. While the 2017 Power Rangers reboot didn't take the world by storm, it did show some promise, so perhaps Hasbro would be willing to make a new Power Rangers movie. This probably wouldn't happen for at least several years, but considering how the TV shows are still chugging along, I can't imagine Hasbro would turn its nose up at putting these characters back in a theatrical setting. At the very least, it gives the company an excuse to make even more Power Rangers toys.
Assuming Hasbro is interested in making a Power Rangers movie, there's the question of if this movie would be a sequel to the last one or a full reboot. While the plot of last year's Power Rangers definitely could have been improved, it did a good job of fleshing out the main characters, making them significantly more compelling than their TV counterparts. It would be great to see that original cast back together, but if Hasbro waits too long on green lighting a new movie, then the actors will be too old to look like they're playing high school students. So perhaps Hasbro will instead decided to reboot the property once more. This would be a typical Hollywood move, but if it means there's a stronger chance of turning Power Rangers into a full-blown film franchise, then a reboot could be the better option in the long run.
Whether it's a sequel or reboot, there are two ways this could be approached. The first is that the company negotiates a new deal with Lionsgate, which distributed the 2017 Power Rangers movie. If Hasbro could convince Lionsgate that its Power Rangers movie stood a better chance at being profitable than the last one, maybe the studio would be willing to give the teenagers with attitude another chance. However, given that all of Hasbro's upcoming live action blockbusters are being developed at Paramount Pictures, I imagine it's likelier that a new Power Rangers movie would also be a Paramount project, which also allows for more creative freedom.
Hasbro obviously thought there was potential for Power Rangers to become even bigger than it already is if it was willing to drop more than $500 million on the property. Churning out toys is Hasbro's primary function, but with all the movies it has in development, it's hard to believe that the company wouldn't want to explore incorporating Power Rangers into its film plans. As for whether it should be a sequel or reboot, while I appreciated 2017's Power Rangers more than many, I believe a new movie should just be a straight reboot. With a new creative mind at the helm and potentially more money to work with, a re-telling would stand a better chance at both critical and commercial success rather than if we followed up with the previous incarnation. The key is staying true to the spirit of Mighty Morphin' Power Rangers while updating it to appeal to modern audiences, and while last year's movie was on the right track with that, a reboot allows those involved to learn from mistakes made and deliver an even better product that results in even more stories being told afterwards.
Keep checking back in with CinemaBlend for any updates concerning the future of the Power Rangers on film. In the meantime, if you're interested in learning what non-morphenmomenal movies are head to theaters this year, you can find release date information in our 2018 premiere guide.
This poll is no longer available.
Your Daily Blend of Entertainment News
Connoisseur of Marvel, DC, Star Wars, John Wick, MonsterVerse and Doctor Who lore. He's aware he looks like Harry Potter and Clark Kent.
Your Daily Blend of Entertainment News
Thank you for signing up to CinemaBlend. You will receive a verification email shortly.
There was a problem. Please refresh the page and try again.