Friday Night Lights Is Getting A Reboot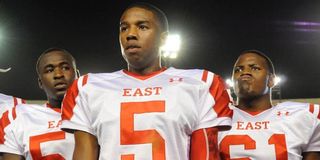 First, Friday Night Lights was a movie. Then it was a critically acclaimed TV show about a small town high school that launched a slew of people, including big names Taylor Kitsch and Michael B. Jordan, into the spotlight. After ending its storied TV run in 2011, we've had a few years without looking into the lives of the football team in Texas, but a new report indicates that Universal is looking to reboot Friday Night Lights and create a new movie based on H.G. Bissinger's book of the same name from 1990.
The new version of Friday Night Lights is currently coming together at Universal with Pineapple Express director David Gordon Green currently in talks to direct. That might seem like an odd fit, but Green recently directed the dramatic Jake Gyllenhaal starrer Stronger, a movie that was under-seen in theaters but quite good, and explored a man who lost his legs during the Boston Marathon bombing. Robert Schenkkan has already penned a script for the project, and Brian Grazer is signed on to produce. Universal's Jon Mone and creative executive Lexi Barta are also signed on to the project.
If the new version of Friday Night Lights moves forward, and it's looking plausible, the new version will not be based on either the 2004 movie or the NBC TV series. Variety is calling the potential movie a "reimagining" of Friday Night Lights, but the source material is still going to be the original book, which means it is going to be about a Texas high school football team. We'll have to wait and see how the specifics change from there.
The original movie was directed by Peter Berg, who will not be involved in the new film. Berg also created the TV show for NBC.
There are so many remakes, reboots, and revivals around right now, it would literally take me hours to sit here and count them all, and frankly, I don't see the point. Suffice to say, remaking Friday Night Lights is a bit of an odd choice. The original movie only made $61 million at the box office. It was enough for a show to be pitched and bought by NBC based on a similar premise, but that show only lasted two years before NBC cancelled it due to low ratings. Due to critical acclaim, this is when DirecTV stepped in and saved the show and additional seasons were produced. Still, the series was never a big money bringer, either, which is why it's a little surprising anyone is trying to make this project happen on the big screen... again.
The idea seemingly has to be that some recognition is better than no recognition, but it's still a bit surprising to hear that Universal is going to tell the story of Odessa, Texas and the importance of football to the town one more time -- and only a few years after the TV show ended. Maybe the script was that good? Either way, we'll keep you posted, and if you want to catch up on the high school football universe, you can catch the flick on Netflix and the series on Hulu right now. For what else is streaming, take a look at our full schedule.
Reality TV fan with a pinch of Disney fairy dust thrown in. Theme park junkie. If you've created a rom-com I've probably watched it.
Your Daily Blend of Entertainment News
Thank you for signing up to CinemaBlend. You will receive a verification email shortly.
There was a problem. Please refresh the page and try again.