This Rotten Week: Predicting Solo: A Star Wars Story Reviews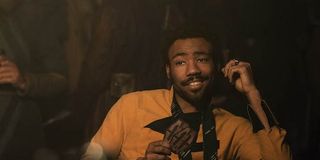 We've only got one movie on tap this week, but it's a big one. For the first time in all of six months, we are once again returning to a time long ago in a galaxy far, far away. This time, however, we are getting the origin story for everybody's favorite swashbuckling space cowboy. Get ready for Ron Howard's _Solo: A Star Wars Story. _
Just remember, I'm not reviewing these movies, but rather predicting where they'll end up on the Tomatometer. Let's take a look at This Rotten Week has to offer.
We are once again diving back into the Star Wars universe this week with a new prequel to follow up the huge success of Rogue One: A Star Wars Story (85%). On the heels of The Last Jedi (91%), this prequel finds a young Han (Alden Ehrenreich) as he establishes his reputation as a smuggler, befriends everyone's favorite Wookie (Joonas Suotamo), and meets up with that backstabber Lando (Donald Glover). It looks like a fun ride with a group of characters we're now getting to get to know in different forms and faces.
Director Ron Howard's career is long and accomplished, but his recent directorial work has had some peaks and valleys on the Tomatometer. He's directed In the Heart of the Sea (42%), Rush (88%), Angels & Demons (37%), The Dilemma (24%) and Frost/Nixon (92%). Those scores (and movies) are all over the map. Many of the reviews of Solo: A Star Wars Story are already in, and trending generally positive. It's at 70% through more than 100 reviews. It's tough to imagine it moves much (if at all) over the course of the week, and it looks like the Star Wars franchise has another win.
It wasn't a good week for the Rotten Watch last time around, as I missed on all three movies. While I thought it would be good, I really didn't expect Deadpool 2 (Predicted: 72% Actual: 83%) to eclipse its predecessor on the Tomatometer. But at the time of this post, it's beating the original Deadpool by 1%. It's another hit for the Ryan Reynolds-led franchise, and an affirmation that these super fun, super bloody comic book movies have major legs in the genre.
Show Dogs (Predicted: 10% Actual: 25%) stunk, but not as bad as I thought it would. I'm a bit taken aback by the scoring getting above the lower quartile. This thing looked as bad as any trailer I've ever seen (and I've seen a helluva a lot of them). No laughs, idiotic premise - even for kids - and silly without being charming. Now don't get me wrong, 25% makes for a garbage film. But I thought we were looking at "worst of the year" type levels.
And finally, Book Club (Predicted: 32% Actual: 57%) outperformed my expectations. Even at 58% on the Tomatometer it's still certified rotten on the site, so I got the overall idea, i was just wrong on the number. Some seemed to think it hit enough laughs for the elderly crowd to take hold while the other half thought just about everything fell flat. It left the score to be somewhere in the middle instead of being more overwhelmingly negative as I predicted.
Next time around we've got Action Point and Adrift. It's gonna be a Rotten Week!
Your Daily Blend of Entertainment News
Doug began writing for CinemaBlend back when Terminator: The Sarah Connor Chronicles actually existed. Since then he's been writing This Rotten Week, predicting RottenTomatoes scores for movies you don't even remember for the better part of a decade. He can be found re-watching The Office for the infinity time.