Solo: A Star Wars Story Could Make Less Opening Weekend Than We Thought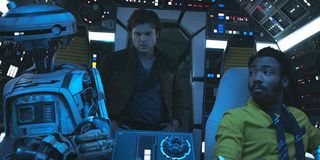 This May has been a huge month for movies. Giant blockbusters have reigned supreme, including Avengers: Infinity War, which technically came out in April but has still dominated May; however, even some smaller movies like Book Club have begun pulling in tidy sums. This weekend, another blockbuster will be released, this time in the Star Wars universe. That film will be none other than Solo: A Star Wars Story, and while the movie is expected to rake in a boatload of money, it may not be as much as you would expect. In fact, new reports indicate that the estimated box office for Solo: A Star Wars Story is down from what we thought it would be in weeks past.
Solo: A Star Wars Story is expected to make between $130 and $150 million when it hits theaters over Memorial Day weekend. Previously, it was predicted that the movie was estimated to make $170 million at the box office during opening weekend. This would have been the highest Memorial Weekend box office ever, as no movie has made more than $140 million during Memorial Day Weekend previously. In fact, if Solo hits at the high mark of that estimate, it could beat the record. However, as its tracking right now, Solo could have the smallest opening weekend for a Disney-ran Star Wars movie. In fact, it looks like it will probably even lose to Rogue One: A Star Wars Story, which made $155 during its opening weekend, and is currently the record holder for the smallest opening weekend for a Disney-led Star Wars movie.
One thing that EW notes is that Solo: A Star Wars Story is opening over Memorial Day weekend. This is a weekend when a lot of people travel, the weather in many places is nice, and families get together for BBQs and other events. Unlike the holiday season, when the other recent Star Wars movies have dropped, people aren't indoors as much and expecting to see movies. This isn't to say that no one will go and see Solo: A Star Wars Story -- it should have a very good weekend actually, but it could help to explain what happened if this movie does end up having the lowest opening weekend of a recent Star Wars movie. In addition, it may not affect the overall box office for the movie once people see it over the next few weeks.
If Solo: A Star Wars Story does end up falling short of total box office expectations, there's also the added fact the movie is hitting theaters just a few months after Star Wars: The Last Jedi came out. There's also been a lot of weird stuff related to this movie, including fired directors and recastings, as well.
Right now, there are a lot of options at the box office, and reviews for Solo: A Star Wars Story have been mixed. I personally thought it was a fun heist movie, but if you haven't seen Deadpool 2 or Avengers: Infinity War yet, it may rank a little lower on your list of flicks to see, even if it is the new, fun release at the box office. With all this in mind, we've seen movies fall short of and also beat box office estimates before, and likely Disney is hoping the latter will happen for its latest Star Wars feature. There's nothing better than a headline that reads "Breaks Memorial Day Box Office Numbers" come Sunday. We'll be here to report, whether or not that happens.
Your Daily Blend of Entertainment News
Reality TV fan with a pinch of Disney fairy dust thrown in. Theme park junkie. If you've created a rom-com I've probably watched it.
Your Daily Blend of Entertainment News
Thank you for signing up to CinemaBlend. You will receive a verification email shortly.
There was a problem. Please refresh the page and try again.