What Black Panther 2 Should Do About Killmonger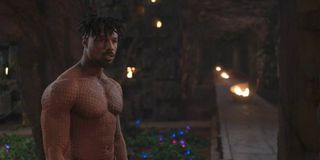 Warning: MASSIVE spoilers ahead for Black Panther! Read ahead at your own risk!
At this point, it's obvious that Black Panther was a massive hit for the Marvel Cinematic Universe. The film properly introduced audiences to the world of Wakanda, and it offered up one of the MCU's best villains in the form of Michael B. Jordan's Erik Killmonger. Erik Killmonger made a clear impression on viewers for his fascinating ideology and his heart-wrenching death, which is why the internet was shocked by the recent revelation that there may be potential plans in the works to bring him back for Black Panther 2. This news raises significant questions about how the MCU could treat Killmonger going forward, but no matter what happens, I firmly believe that the badass villain needs to stay dead.
The wheels started turning this morning when Metro wrote that Michael B. Jordan was reportedly "in talks" to sign on for Black Panther 2, in addition to the report that Donald Glover had also taken part in talks for the film as well. Nothing has been confirmed at this stage, but if true, this could lead to Killmonger having some degree of a role in the next Black Panther solo film, which is intriguing, because of the way Black Panther left things with Erik Killmonger.
Few villains in the Marvel Cinematic Universe have ever died as beautifully as Erik Killmonger. The lost son of Wakanda returned home with a violent vengeance as an adult and brought his arguably bastardized sense of violent extremism to the country in his wake. This conflict against T'Challa's isolationist policies eventually led to a massive showdown between the two characters, with T'Challa finally finding a way to shut down Killmonger's vibranium suit and plunge a knife into his heart. From there, Killmonger faded away peacefully (presumably the first real peace he had felt in a long time) as he watched the sunset over Wakanda.
As far as character arcs go, that's reasonably close to perfect. Killmonger's death is a somber moment that definitively punctuates his role in Black Panther. It's not left open for more conflict between him and T'Challa, as the two seemingly understood each other at that moment -- even if they still disagreed. With such a perfect conclusion to the Killmonger story, doing anything else with the character in Wakanda could potentially sully the effectiveness of that scene. No resurrection, no Infinity Stone timeline trickery in Avengers 4, and no secret reveal that he faked his death. Let him die the honorable death he deserved and then stay dead.
Having said all of that, there is one way to bring Killmonger back and have it work: take a cue from Forest Whitaker's recent remarks about resurrecting Zuri, and bring him back in the Ancestral Plane. The film goes to great lengths to establish a realm in which the spirits of past Black Panthers can roam, and it's a location where dead characters can show up to speak to T'Challa.
If any character can fit into this particular idea, it's Killmonger. Not only was the Wakandan-American villain a blood relative of T'Challa, but he also briefly served as a Black Panther, even undergoing the ceremony that allowed him to visit the Ancestral Plane as well. Beyond that, Killmonger's ideology has become widely-regarded by fans (whether they agree with him or not) as a point of view they could empathize with, so violent as he may have been, there's an argument to be made that he deserves a place in that afterlife as well.
Only time will tell what the folks behind Black Panther 2 intend to do with Erik Killmonger. CinemaBlend will bring you more information related to the sequel as it becomes available to us, and for now, make sure to pick up your copy of Black Panther's home release on Digital HD, Blu-ray, and DVD. As for T'Challa's most recent adventures in the Marvel Cinematic Universe, you can also catch the Wakandan king in Avengers: Infinity War, which is currently in theaters.
Originally from Connecticut, Conner grew up in San Diego and graduated from Chapman University in 2014. He now lives in Los Angeles working in and around the entertainment industry and can mostly be found binging horror movies and chugging coffee.
Your Daily Blend of Entertainment News
Thank you for signing up to CinemaBlend. You will receive a verification email shortly.
There was a problem. Please refresh the page and try again.