This Rotten Week: Predicting Action Point, Adrift And Upgrade Reviews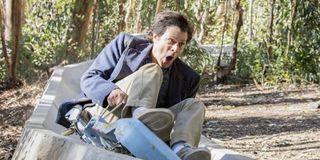 Between Avengers: Infinity War, Deadpool 2, and Solo: A Star Wars Story, the last few weeks have been filled with some crazy giant blockbusters. This week, thankfully, we get a bit of time off from big screen sci-fi action. Specifically we have Action Point, Adrift, and Upgrade. It's gonna be a Rotten Week.
Just remember, I'm not reviewing these movies, but rather predicting where they'll end up on the Tomatometer. Let's take a look at This Rotten Week has to offer.
When your theme park has an entire Wikipedia section called "Factors contributing to the park's safety record," you know things went horribly off the rails (pun mostly intended). Such is the true story that has inspired director Tim Kirkby's new comedy Action Point. I've been to the park that this movie is based on (Action Park in Vernon, NJ), and made it out alive. So I guess it wasn't all bad. And the place is still functioning, so they turned things around. But oof, the history on this place isn't awesome.
Johnny Knoxville and company star in a story about an amusement park taking things to extremes so as not to kowtow to the rules. Instead, they make a place where anything and everything goes - and where anything and everything goes wrong. It looks very much like the jokes will wear thin ten minutes into the film. How many times can you see a ride fail, or someone take a hard hit off a broken roller coaster? It's hard to imagine Action Point rates anywhere close to positive with critics. It probably won't matter for their bottom line, but the Tomatometer won't be kind.
I always appreciate a movie that makes me never want to do something ever again. I feel this way about every airplane crash movie I've ever seen, and after seeing Adrift I'm sure the thought of stepping on a boat will seem like complete and utter lunacy. This is the story of a young couple who set out to sail the Pacific only to get caught up in a hurricane. They have to then go into aquatic survival mode to get the boat to Hawaii.
Director Baltasar Kormakur has some experience directing movies where expeditions go horribly wrong (Everest - 73%) and specifically, boating expeditions that went pear-shaped (The Deep - 96%). Adrift looks like something of a combination of the two, with Shailene Woodley having to get the boat to safety after her boyfriend (Sam Claflin) gets his body broken in a thousand different places. It looks emotional and riveting, though, I don't think it completely crushes with critics.
Upgrade posits an idea that a microchip inserted somewhere along your brain stem could turn you into a half man/half A.I. infused piece of technology that fights all kinds of crime. Honestly, this doesn't seem too far away from our current reality. Humans are just weak enough to allow this sort of enhancement, and computers are just smart enough to make it happen. We are on the precipice folks. That being said, I'm not sure this film will be the greatest representation of this idea.
Early sentiments on Upgrade are trending positive, with it sitting at 73 percent with 11 reviews post. It will almost definitely drop over the course of the week with more eyeballs getting a look at the blood, guts and violence. Though it should be said that those things don't always mean the critical death knell. If the rest of the movie holds tight than critics can look past gratuitous violence to see something worth watching. It looks like a fun time at the movies with just enough shout-outs to our current reality that it likely doesn't just get left by the wayside.
With only one movie on the docket and a bunch of reviews already in, it was going to be tough straying too far out of range with Solo: A Star Wars Story (Predicted: 68% Actual: 71%). The review embargo lifted early for this one, so I had a head start. We might be entering some kind of Star Wars fatigue state, where revamping every storyline along the spectrum of the universe could be trouble going forward. I mean, I suppose the movies will always pay, but at some point we are going to stop caring about every single story. Reviews for this movie still trended positive, but I can't imagine it will be the case forever.
Next time around we've got Hereditary, Hotel Artemis and Ocean's 8. It's gonna be a Rotten Week!
Your Daily Blend of Entertainment News
Doug began writing for CinemaBlend back when Terminator: The Sarah Connor Chronicles actually existed. Since then he's been writing This Rotten Week, predicting RottenTomatoes scores for movies you don't even remember for the better part of a decade. He can be found re-watching The Office for the infinity time.
Your Daily Blend of Entertainment News
Thank you for signing up to CinemaBlend. You will receive a verification email shortly.
There was a problem. Please refresh the page and try again.