This Rotten Week: Predicting Ocean's 8, Hotel Artemis, And Hereditary Reviews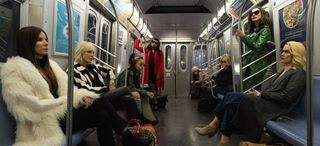 We've got three movies on tap this week, with a new twist on a famous heist group, a secret hospital for criminals, and a horror film that looks particularly unsettling. Get ready for Ocean's 8, Hotel Artemis and Hereditary.
Just remember, I'm not reviewing these movies, but rather predicting where they'll end up on the Tomatometer. Let's take a look at This Rotten Week has to offer.
In this new spin-off from Steven Soderbergh's legitimately awesome heist trilogy, Debbie Ocean (Sandra Bullock) assembles a rag-tag group of ladies, each with their own quirky (and rather cliche) set of skills to rob the Met Gala. From the trailer for Ocean's 8, it looks fun but predictable, hitting a lot of the same notes we saw from the Clooney/Pitt/Damon-led flicks. They assemble a bunch of big names in the film industry to cover a lot of the ground on the screen behind the loose premise - but to its credit, the cast is pretty great. In addition to Bullock, the movie also stars Cate Blanchett, Anne Hathaway, Mindy Kaling, Sarah Paulson, Richard Armitage, James Corden, Awkwafina, Rihanna and Helena Bonham Carter.
Director Gary Ross's last film was a disappointment, as Free State of Jones (46%) didn't get a warm critical reception. That being said, his resume also includes The Hunger Games (84%) and Seabiscuit (77%). I suspect Ocean's 8 falls somewhere in the middle. It's too slick and star-studded to be a total dud, but I can't imagine it blows critics out of the water.
If you were to judge society based solely on movies, you'd think that the criminal underworld were filled with all kinds of exclusive trappings for the truly powerful to enjoy. There are secret clubs, secret islands, secret stores, and secret hospitals - and it's the last on that list that is featured in Hotel Artemis. Just become a good (or evil) enough criminal and you will have Jodie Foster's The Nurse ready and able to fix you up any time you get injured.
In the movie, Jodie Foster runs an emergency room for criminals and gets some very talented actors walking through her doors with all manner of crime-related injuries. It looks fun enough, with an interesting concept, and strong cast, though I can't imagine the critics fall in love with it. Hotel Artemis is director Drew Pearce's first shot at helming a feature film, and while it looks slick enough, it's tough to think it has the meat to really win over critics.
It's not often that a trailer is so creepy that I need to stop watching, but the preview for Hereditary got me there. It's tough to explain what, exactly, was so unsettling about the story and characters, but everything just feels hair-raising and off-putting. It's the story of a family dealing with the death of the family matriarch who believed in the occult and passed it all down to the granddaughter. The film looks dark and chocked full of scenes that will force you to cover your eyes.
So far Hereditary is crushing it with critics, sitting at 98% with almost 40 reviews counted. The consensus seems to be that it's a new and intense take on the horror genre and plays on just about every single emotion. Critics appreciate that it not only has plenty of scares, but also works in a dynamic that's almost a look at the current state of affairs revolving around the idea of "family". All in all, it should stay high on the Tomatometer.
It was not a great week for the Rotten Watch last time around, as I only scored on one of the three movies. The lone win was Adrift (Predicted: 63% Actual: 71%), which just barely fell within range. Most critics praised Shailene Woodley's performance as strong, independent and resourceful in the fight to keep her and her boyfriend alive on the open sea after their boat is ravaged by a hurricane.
Meanwhile, Upgrade (Predicted: 65% Actual: 85%) was a loss from a prediction standpoint, but a big win with the critics. I didn't expect the score to climb over the course of the week, but was clearly wrong on that front with the score. Critics loved the B-movie feel to the film, feeling it pulled it off with its high-tempo pace and over-the-top gore.
And finally, Action Point (Predicted: 34% Actual: 17%) really stunk. I suspected it would be bad because, well, it looked pretty damn stupid. But Johnny Knoxville had pulled off this kind of stunt gag stuff before in films like Bad Grandpa (60%). But this one missed the mark in a big way, and critics overwhelmingly thought it was nearly unwatchable.
Next time around we've got The Incredibles 2 and Tag. It's gonna be a Rotten Week!
Your Daily Blend of Entertainment News
Doug began writing for CinemaBlend back when Terminator: The Sarah Connor Chronicles actually existed. Since then he's been writing This Rotten Week, predicting RottenTomatoes scores for movies you don't even remember for the better part of a decade. He can be found re-watching The Office for the infinity time.