One Thing A Joker Solo Movie Could Do To Get Us Excited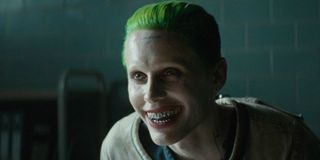 As the DCEU continues to expand, evolve, and generally change with the numerous creative shifts that have taken place behind the scenes, we recently got one of our most surprising announcements to date: a standalone movie focusing on Jared Leto's Joker from Suicide Squad is in development. The report has caused many fans to scratch their heads and wonder if we need that type of film, but I'm here today to lay out one way that it can work: make The Joker a former Robin. It may sound crazy, but let's break it down and talk this out.
If you followed the development of Suicide Squad, then there's a good chance that you already know about this fan theory. When the film's first look at Leto as the Clown Prince of Crime first dropped, some fans began to put together context clues (such as his tattoos and scars) suggesting that he might be an older version of Jason Todd (or another Robin, we're still not sure) driven crazy by a previous Joker during a particularly bad torture session, and that Batman's tribute to Robin seen in Batman v Superman: Dawn of Justice is actually to honor a character who turned evil, and not a character who died.
Opinions on this theory varied wildly, but now seems like the perfect time for the folks at DC to begin taking it seriously. For starters, Joker is a character who arguably works better with a mysterious backstory, which is one reason why Heath Ledger's version from The Dark Knight often tops lists of fan favorites. Moreover, Jared Leto's Joker did not debut to a warm welcome from fans when Suicide Squad premiered back in 2016, which means there's room to go back and toy with something less-than-perfect in the DCEU lore. Much in the same way that Rogue One: A Star Wars Story retroactively improves A New Hope for some fans, retconning Leto's Joker (while suggesting that another Joker is out there somewhere) could do the same for the big screen DC world.
We also should take this time to note that other Batman stories have delved into this particular realm as well over the years. Perhaps most notably, Batman Beyond: Return of the Joker told a similar tale involving Tim Drake in which The Joker and Harley Quinn broke this Robin's mind and turned him into a young version of The Clown Prince of Crime. You can check out a scene from that movie, below.
The DCEU's Joker standalone movie wouldn't have to follow that format beat for beat (in fact, it would probably be better if it didn't), but it's obvious that there's a roadmap in place for how to proceed with this type of story. By making the Jared Leto Joker a former hero broken by the original Mr. J, then DC can have its cake and eat it too. We will get a Joker origin movie, but the mystery of the real Joker will persist. That's a rare combination that few superhero properties can enjoy.
Of course, that's merely my take on the matter. What do you think? Let us know what you want to see in the Joker spinoff movie in the poll below, and watch out for the latest DCEU outing when James Wan's Aquaman premieres in theaters later this year on December 21.
This poll is no longer available.
Your Daily Blend of Entertainment News
Originally from Connecticut, Conner grew up in San Diego and graduated from Chapman University in 2014. He now lives in Los Angeles working in and around the entertainment industry and can mostly be found binging horror movies and chugging coffee.