Why Jared Leto's Joker Movie Is Completely Unnecessary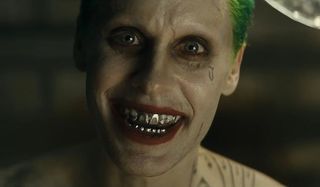 For nearly as long as Batman has been fighting crime in the comic book pages, The Joker has been his sworn nemesis. Debuting in 1940, only a year after the Dark Knight first showed up, Gotham City's Clown Prince of Crime is unquestionably Batman's most well-known adversary, which means that there have been numerous adaptations of him in other media. The most recent live action Joker was played by Jared Leto in 2016's Suicide Squad. Nearly two full years after that movie's release, it was recently reported that DC and Warner Bros are developing a solo movie for Leto's Joker, which the actor would also executive produce.
It's no secret that DC has a lot of movies in the works, but news of this particular project has been met with especially mixed reception, and I find myself firmly in the camp that this creative endeavor is completely unnecessary. Granted, it's possible there may be a way to make this particular Joker tale sound more exciting, but otherwise, here are the chief reasons why this movie doesn't need to be made.
We Haven't Spent Enough Time With This Joker
Although he was one of the most heavily advertised characters in the lead-up to Suicide Squad, he barely appeared in the movie, though that's not to say he merely cameoed. Jared Leto's Clown Prince of Crime performed two functions in Suicide Squad: to flesh out Harley Quinn's past and to try to free his girlfriend from Task Force X's clutches.The former was certainly helpful, but the latter didn't go according to plan, though at the end of Suicide Squad, Joker and his men broke into Belle Reve and rescued Harley. Nevertheless, in total we probably spent at most 15 minutes with Leto's version of The Joker. That's not enough time for us to get a true grasp on this version of the character, and considering how polarizing the reception was towards Leto's portrayal, DC would be better off waiting to better utilize him in a supporting role rather than just give him a standalone story next. Speaking of which...
Jared Leto's Joker Already Has Other Appearances Lined Up
It's not like there were a lack of projects in the works to feature The Joker in the DC Extended Universe. The character is reportedly expected to show up in Suicide Squad 2, Gotham City Sirens and an untitled movie about Joker and Harley Quinn's relationship. Hell, maybe he could even show up in The Batman! Admittedly, not all of these projects will necessarily move forward, and even though it looks like Harley's next appearance will be Birds of Prey, there's no word on if Joker will appear in that. Regardless, it's not like the only way for us to see Leto's Joker again is if he stars in his own movie. Clearly some of the creative talent over at DC and Warner Bros are keen on keeping him around, and because of the character's popularity, you can bet his inclusion in certain movies, even if he isn't the lead, would drive a lot of people to go see these movies. Putting Joker directly under the spotlight seems like overkill.
There Are Other Characters More Deserving Of Getting A Movie
Looking at the list of list of DCEU movies in development, there are plenty of worthy candidates who are worthier of leading their own movie than Joker, and that's including movies that look like they're close to happening, such as The Batman, The Flash and Birds of Prey. Green Lantern Corps deserves a chance to redeem the Green Lantern mythos on screen, and the Emerald Knights have already been established in this universe thanks to Justice League. Henry Cavill has expressed interest in playing Superman again, and since he had to share the spotlight with Batman for his second cinematic outing, let's give him a standalone sequel with Man of Steel 2. Let's expand the Batman mythos and ensure that Batgirl and/or Nightwing get their proper due. Even Deathstroke, a fellow villain, would be better suited for a solo movie. Granted, Joe Manganiello's Slade Wilson has had even less screen time than Jared Leto's Joker, but Slade has led enough comic book series over the years to prove that he's a complex character worthy of getting that spotlight.
The Joker Is Best Used When He's Not The Central Character
It would be ridiculous to say that The Joker isn't a compelling character. His role as Batman's antithesis has cemented him as one of fiction's greatest villains. But unlike a lot of villains, Joker works best when he's shrouded in mystery. There are a few exceptions to this rule (I like what Gotham has done with Jerome and Jeremiah Valeska), but outside of the frequently-used origin of him becoming a cackling maniac after being knocked into a vat of chemicals, we know few details about Joker's life before he had the white skin, green hair and ruby lips, and usually that's for the best. From there, we know he's obsessed with killing people in colorful ways. That makes for a dangerous bad guy (and he's arguably the most evil of the DC villains), but as the subject of his own movie, there's not a lot to work with. It's more efficient to point him at a hero and let him go wild rather than have him serve as the "protagonist." But for the sake of argument, let's assume that whoever writes this Jared Leto Joker movie still manages to put together a captivating story. That brings us to our final entry.
We're Already Getting A Joker Movie
Last summer, it was announced that DC and Warner Bros were developing a Joker origin story movie, only instead of being set in the DCEU, it would be a standalone story that's reportedly a "hard-boiled crime drama" set in the 1980s. Joaquin Phoenix is being eyed to play this Clown Prince of Crime and the budget would reportedly only be around $55 million. As I said before, it's incredibly difficult to make an interesting Joker movie, but at least this non-DCEU Joker movie allows for more creative freedom since director Todd Phillips and co-writer Scott Silver don't need to worry about making their movie fit within the existing continuity. So why move forward with a Jared Leto Joker movie when this other project is already being worked on and, as mentioned earlier, there were already plans to bring back Leto's Joker. If DC and Warner Bros are so invested in having Joker lead his own movie, the companies are better off focusing on the Phillips-helmed movie.
Connoisseur of Marvel, DC, Star Wars, John Wick, MonsterVerse and Doctor Who lore. He's aware he looks like Harry Potter and Clark Kent.
Your Daily Blend of Entertainment News
Thank you for signing up to CinemaBlend. You will receive a verification email shortly.
There was a problem. Please refresh the page and try again.