Robin Williams' Widow Has Penned An Intimate Look Into The Actor's Final Months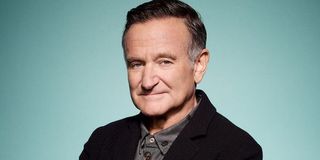 It has been exactly three years since Robin Williams died of an apparent suicide after suffering from a form of dementia. Since then, Susan Schneider-Williams, the legendary actor's widow, has been working to increase societal awareness of the brain disease that led to her late husband's death. For example, in a 2016 essay titled "The Terrorist Inside My Husband's Brain," Schneider-Williams shed light on her husband's harrowing experience with Lewy body dementia to raise awareness of the disease.
Back in 2015, Susan Schneider-Williams opened up about the poor state of Robin Williams' health. Then in the 2016 essay for the science journal Neurology, Schneider-Williams detailed the misdiagnoses doctors gave her husband. Apparently, the Academy Award-winning movie star had symptoms such as "constipation, urinary difficulty, heartburn, sleeplessness and insomnia, and a poor sense of smell---and lots of stress," which led to misdiagnoses.
By the end of 2013, Robin Williams was experiencing "problems with paranoia, delusions and looping, insomnia, memory, and high cortisol levels." In fact, he needed constant "psychotherapy and other medical help" to deal with the competing symptoms.
In the essay, Susan Schneider-Williams said her husband received an early diagnosis of Parkinson's disease. The diagnosis brought her some small comfort, as she thought it helped her understand his situation. However, Robin Williams was miserable and told her he wanted "to reboot" his brain. Later, Williams asked doctors if he had Alzheimers, dementia, or schizophrenia, and he became depressed when they said no.
It turned out Robin Williams had Lewy body dementia, a form of dementia with symptoms similar to those of Alzheimer's and Parkinson's diseases. A buildup of irregular masses of proteins called Lewy bodies in the brain causes the illness and the devastating symptoms Williams experienced.
In the essay, Susan Schneider-Williams described the weekend before Robin Williams' death. She said the two of them did their favorite Saturday activities together and had a fantastic date night. The next day, she began wondering if he was feeling better, and when they went to bed, they expressed their usual words, "Goodnight, my love," to each other. Sadly, it was the last thing she heard him say, and the words remain with her to this day.
Also, Susan Schneider-Williams closed the piece by expressing warm words for the experts working to learn about Lewy body dementia. She encouraged them to continue studying the disease, and she wrote,
Susan Schneider-Williams mentioned the fact that the role Robin Williams played most often was a doctor, and she indicated that he would have found inspiration from the work of researchers studying brain disease. It is heartening to see Schneider-Williams working hard to raise awareness of Lewy body dementia. Her tireless efforts could help many families.
Your Daily Blend of Entertainment News