How Shazam Is Using Mark Strong's Doctor Sivana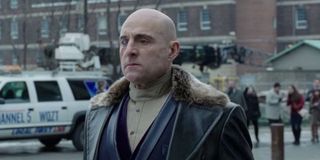 Many of the great superheroes have an arch-nemesis, and while some may argue that Black Adam fills that role for Shazam, the fact of the matter is that Doctor Thaddeus Sivana is an equally worthy candidate, if not more so given that he debuted in Whiz Comics #2, the same comic book that introduced the hero previously known as Captain Marvel. So when it was revealed that Black Adam was no longer appearing in the Shazam! movie, many fans suspected that Doctor Sivana would fill in as the main antagonist, and sure enough, it was confirmed in January that Mark Strong was playing the character. The Shazam! trailer gave us a brief glimpse of Strong's Sivana, showing us that he physically looks more formidable than traditionally depicted in the comics. Shazam! is also making some adjustments to Sivana's backstory as well, as this version of the villain met the mysterious Wizard that gives Billy Batson his powers.
Just like in the comics, Billy Batson will be selected by the Wizard in Shazam! to inherit his powers and become his new champion. But it turns out that Mark Strong's Sivana also encountered the Wizard (also named Shazam) as a kid, but he was rejected from receiving those amazing abilities. In the years since, Sivana has been trying to gain powers like the one Billy now has so he can finally live up to the expectations of his "domineering father." Since Sivana was able to block one of Shazam's mighty punches in the trailer, clearly he's somehow accomplished this goal. Shazam! director David F. Sandberg also told EW the following about Shazam!'s Sivana:
Although Shazam! is pulling from various eras of the character's nearly eight-decade history, the overall story looks to be very much inspired by the Shazam New 52 origin story, and Sivana is no exception. As you can see above, one of Sivana's eyes is whited out, which calls back to when the New 52 Sivana gained the ability to see magic. However, in the comics that came as a result of trying to open Black Adam's tomb, and Black Adam will not appear in Shazam!. So where could Mark Strong's Sivana have obtained his powers? My guess is from the Seven Deadly Enemies of Man, demons that are the physical embodiments of Christianity's seven deadly sins (Pride, Envy, Greed, Anger, Sloth, Gluttony and Lust). They've been part of the Shazam mythology for decades and, like Sivana and Black Adam, were involved in the New 52 origin story. Perhaps in Shazam!, the Enemies are trapped and have given Sivana some powers in exchange for working to free them. Sivana thinks once he's done that, he'll become godlike, but in the end, the Enemies betray him and instead just try to wreak havoc and corrupt as many humans as possible around the world.
We'll learn what Doctor Sivana's whole deal is when Shazam! works its magic in theaters on April 5, 2019, so stay tuned to CinemaBlend for more updates. Don't forget to also look through our DC movies guide to learn what else is in development for the DC Extended Universe.
Your Daily Blend of Entertainment News
Connoisseur of Marvel, DC, Star Wars, John Wick, MonsterVerse and Doctor Who lore. He's aware he looks like Harry Potter and Clark Kent.