Why You Should Take Your Teenagers To See Eighth Grade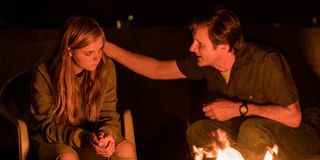 Much as Kayla's father in the film Eighth Grade has his daughter's best interests in mind when he supervises portions of her life, parents taking their kids to the movies have similar responsibilities. The ratings system can only do so much to prepare someone who's either going to bring their kids to the movies, or drop them off to go see something with their friends, and even then, the ratings issued by the MPAA aren't guaranteed to be valid. Case in point is Bo Burnham's feature writing/directing debut Eighth Grade, which is currently expanding in theaters nationwide, and has been saddled with the ever-restrictive R-rating. Which means that if your kids want to see Eighth Grade, chances are you're going to have to take them and their friends -- and by all means, you totally should.
As far as the quality of the film is concerned, you should take your teenagers to see this movie because an outing to see Eighth Grade is a night out at one of the best movies on the current market. Rarely are personal dramas so good that both parent and child can enjoy them through separate lenses, and the story of a young woman's graduation into a new chapter in her life is something that pretty much anyone can relate to. It's a story told with enough honesty that you can approach it from any point in life and understand what it's trying to say. The common language that the film seems to engage its story with also helps in another respect, because if you take your teen to see Eighth Grade, it could lead to a really good bonding experience.
The film's events also lend themselves to insightful discussion after the film's ended. While your childhood may not have been anything like the one that Bo Burnham and his cast show on screen, the benchmarks and general template is still the same. The only thing that's really changed is the technology at hand, and maybe the pace that kids today move at. The rest is absolutely real, scars and all, so the car ride home or post-movie meal at a local restaurant can be filled with memories from the childhood of the parent's side of things, as well as with the current issues your middle- or high-schooler is facing.
But perhaps the most important reason to take your kids to see Eighth Grade in the theater is the fact that, once again, the film is stuck with an R-rating. This is mainly for the language in the film, as two usages of the world "fuck" do occur, and the standard usually allows only one to slip through in anything hoping for a PG-13. A very similar situation occurred with Best Picture winner The King's Speech, as that film had a tirade of obscenity that, while fitting the story's context, was still tsk-tsk'd by the MPAA. Though the full descriptor indicates that the film is rated as it is for, "language and some sexual material," the "sexual material" is limited to broad discussion of a sex act, as well as a scene where Kayla is being propositioned by a high school boy. The furthest that last bit goes is he gets into the back seat of a car with Kayla, engages in tense, awkward flirting, and takes his shirt off before putting it back on in a huff when the flirting goes nowhere.
Still, material such as this is important for kids of a certain age to watch, in particular with their parents, as Eighth Grade's realistic events allow parents and their young charges to discuss some of the stuff they've either already handled, or are about to handle, throughout their lives. It's as painful to watch Kayla (Elsie Fisher) move through social anxiety and peer pressure on the big screen, so taking your kids to see this film might help them discuss these potential / past happenings more openly with you, their parents. It's an icebreaker that's only a little over an hour and a half long, and it's well worth your time. Also, seeing Eighth Grade also rewards Bo Burnham's refusal to sugar-coat the film with a PG-13 edit, as he recently explained to Salon:
If you were to package everything above into one simple argument as to why you should take your teenagers to see Eighth Grade, it's the fact that this film tackles familiar subject matter with a maturity and verisimilitude that the teen movie genre rarely shows to its audience. It's not a horny sex comedy about losing ones' virginity, nor is it a maudlin romantic tale full of misunderstandings about how relationships work. Eighth Grade is about the pressures of young life, the horror of growing up, and the comfort in family. You'll cry, but it's not out of emotional manipulation. You'll laugh, but it's sympathetic to the plight of its protagonist and her father. Most importantly, you'll remember what it felt like to push through that phase yourself, and be ready to help your own young adults better handle the craziness of their adolescence. Sometimes, kids feel like they're not being listened to, and in that frame of mind, they'll look for any voice they can claim speaks for their own. Bo Burnham's words and direction, matched with Elsie Fisher's tremendous performance, are exactly the sort of voice we all need to speak for kids in our modern times.
Eighth Grade is currently in limited release, with a full nationwide roll-out being planned for this Friday. Get tickets now.
Senior Movies Contributor
CinemaBlend's James Bond (expert). Also versed in Large Scale Aggressors, time travel, and Guillermo del Toro. He fights for The User.
Your Daily Blend of Entertainment News
Thank you for signing up to CinemaBlend. You will receive a verification email shortly.
There was a problem. Please refresh the page and try again.