Someone Edited Paddington Like The Hereditary Trailer, And It's Perfect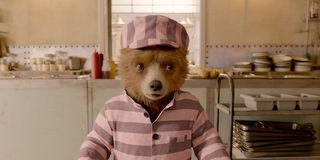 There have been some fantastic movies in 2018, with two of the best (and two of the most unique) coming in the form of Paddington 2 and Hereditary. Both films found audiences and have been hailed as triumphs in their own respective ways, but what would happen if they crossed over with one another? Well, someone apparently posed that question by editing Paddington footage into the Hereditary trailer, and it's delightfully weird. Check it out, below!
It's almost eerie to see how well Hereditary and Paddington line up. Isn't it? Some great editing is on display here, as the children's movie is played over the trailer for the 2018 horror fest in spectacular fashion. Though some of the moments don't totally line up, others (such as the pairing of Toni Collette and Sally Hawkins' characters) works almost too well.
It just goes to show how much music can affect the tone and style of a given movie. None of the original Paddington audio plays in this trailer, so the effective score of Hereditary (coupled with some of the dialogue) helps to hammer home the fear and dread of Ari Aster's movie.
Beyond that, both Paddington and Hereditary use similar visual motifs of dollhouses to frame their stories. You can check out the Hereditary version of the scene, below!
Now, for the sake of comparison, you can check out the Paddington version of the dollhouse motif (the one that is also used in the fan edit trailer) to see how it stacks up!
This is not the first time that the trailer for Hereditary has been looped in with a children's property. In fact, earlier this year it was reported that an Australian cinema accidentally played the preview for Hereditary ahead of a screening of Peter Rabbit -- which, as you can probably imagine, was full of children and families. The result? A theater full of crying children and angry parents. Luckily, this video is designed from the ground up to be funny, so we're keeping our fingers crossed that it won't terrify too many children.
CinemaBlend will keep you posted with any and all relevant updates about Hereditary, the Paddington franchise, and the rest of this year's most beloved films as new details about all of them are made available to us. Until we learn more, you can head over to our movie premiere guide to read up on all of the films that are scheduled to debut before 2018 comes to a close.
Originally from Connecticut, Conner grew up in San Diego and graduated from Chapman University in 2014. He now lives in Los Angeles working in and around the entertainment industry and can mostly be found binging horror movies and chugging coffee.
Your Daily Blend of Entertainment News
Thank you for signing up to CinemaBlend. You will receive a verification email shortly.
There was a problem. Please refresh the page and try again.