Star Wars: Revenge Of The Sith's Order 66 Sequence Could Have Been 'More Gruesome'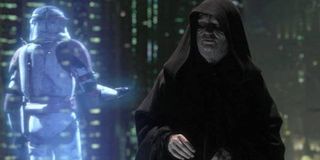 From the minute The Phantom Menace started, we knew that the Star Wars prequel trilogy would eventually show us how the Galactic Empire rose to power. That time finally came in Revenge of the Sith, as after Mace Windu failed to kill Palpatine and Anakin Skywalker willingly became the chancellor's Sith apprentice, Palptaine, a.k.a. Darth Sidious, ordered the execution of Order 66. Across a galaxy far, far away, Jedi were eliminated by clone troopers, and Anakin oversaw the killing of younglings at the Jedi Temple on Coruscant. It was a depressing moment in the Star Wars saga, but according to Palpatine's actor, Ian McDiarmid, the sequence could have been darker. As McDiarmid put it:
Ian McDiarmid didn't provide any specifics regarding how Revenge of the Sith's Order 66 sequence was originally conceived during his appearance at the FanX convention in Salt Lake City this past weekend (via Comicbook.com), but the actor did note that it was "probably a good idea" that aspect of the movie was toned down. Revenge of the Sith was already breaking ground by being the first PG-13-rated Star Wars movie (which has continued with the Disney era Star Wars movies), but had Order 66 been fully realized, that might have resulted in the movie coming close to or even scoring an R rating, which is not a good thing when you're trying to get viewers young viewers into seats. So yeah, not including more shots of young Padawans being gunned or sliced down was probably for the best.
Although a scattering of Jedi managed to survive Order 66, Obi-Wan Kenobi and Yoda among them, the newly-titled Emperor Palpatine was nonetheless successful in not just destroying the Jedi Order, but also painting the knights as traitors to the public. Most of the Order 66 sequence in Revenge of the Sith showed the clone troopers eliminating their former commanders, and all we saw of Anakin... sorry, Darth Vader's part in the devastation was him igniting his lightsaber in the High Council Chamber where numerous younglings were hiding and a hologram recording showing him dueling Cin Drallig and his apprentices. While each Star Wars movie has its dark moments, Revenge of the Sith is arguably the darkest chapter in the saga, and Order 66 played a large part with that... although seeing a man lose nearly all his limbs and be horribly burned on a lava planet brought it home.
The Star Wars saga will continue when Star Wars: Episode IX is released on December 20, 2019. As for what else the space opera franchise has in development, check out our handy guide.
Your Daily Blend of Entertainment News
Connoisseur of Marvel, DC, Star Wars, John Wick, MonsterVerse and Doctor Who lore. He's aware he looks like Harry Potter and Clark Kent.