Mattel's New Film Division: 5 Projects We'd Love To See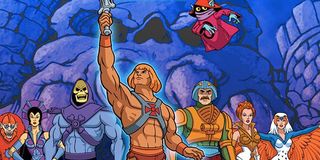 The toy industry has a long, proud history of creating cartoons just to sell toys to kids, and now one of the industry's biggest players has decided that it can use the popularity of its iconic toy properties to make money at the box office. Earlier this month, Mattel announced that it is launching a new film division called Mattel Films. This new division will develop and produce feature films based on Mattel's stable of popular and recognizable brands. This is a huge move for the popular toy company and one that follows in the footsteps of competitor Hasbro, which launched Hasbro Films back in 2009. It is also a mulligan for the company, whose previous production company was DOA with Max Steel.
These days, what carries the most weight at the box office are franchises and brand names. Properties with built-in audiences and name recognition are as good as gold and if those properties have a heavy nostalgia quotient, when done right, it's a license to print money. Mattel has all of that. The toymaker has been around since 1945 and generations of kids have played with its toys. Some of these properties have already been proven in the cartoon realm, and have been begging for years for a big screen adaptation. Now, with the launch of Mattel Films, and thanks to a few properties coming back to Mattel after the rights lapsed, Mattel can hopefully capitalize on its beloved franchises with some quality movies.
Mattel has a lot of brands to its name, but some of them stand above the rest as obviously ripe for the big screen. So here are the five projects we'd love to see from Mattel Films.
Barbie
Of all the properties on this list, Barbie seemed like it was the closest to getting made. Sony had the film rights to the character and a movie starring Amy Schumer was set to debut this summer. But Amy Schumer dropped out of the project and Anne Hathaway stepped in. Then the project was pushed back to 2020 and now Sony's rights have expired, timing perfectly with the launch of Mattel Films. This is probably Mattel's biggest brand, so it is inevitable that a Barbie movie happens. The previously reported take would have seen Barbie in a fish-out-of-water story discovering that it is fine that she doesn't fit in with the perfect residents of Barbieland. That concept has potential to say some interesting things and teach little girls positive messages, but it is hardly original. Hopefully a different take from Mattel can tell a more interesting story that maintains a positive message and gives this beloved character the movie she deserves. The best Barbie movie now is probably Toy Story: Hawaiian Vacation. I doubt Mattel would take that sort of tongue in cheek approach to Barbie and Ken, but it shows one way the characters can work.
Hot Wheels
Hot Wheels is celebrating its 50th anniversary this year and over 6 billion(!) cars sold, and the time seems right to bring this storied brand to the big screen. I'm thinking Fast & Furious but way more fantastical and aimed a bit younger. Sure, Fast & Furious defies physics all the time but I'm talking about a truly out there movie with imaginary cars and exotic environments with tracks including all the loops and such like the playsets you built as a kid. There is precedent for this with the Wachowski's Speed Racer. And although that was a failure, I don't think that the '60s cartoon upon which that was based has anywhere near the brand recognition that Hot Wheels does. In addition to the toys, the Hot Wheels name has been used on cartoon series for years. The benefit to Hot Wheels too is that there is no story to be faithful to. So this is one of those rare situations where slapping the brand name on a movie for recognition purposes won't be an example of just a cash grab. Have cool cars going fast and you've got a Hot Wheels movie.
Polly Pocket
If you grew up in the '90s there's a good chance you might remember playing with (or choking on) Polly Pocket toys, or their boy-aimed counterpart, Mighty Max. These were the palm-sized playsets that had tiny little figures inside. Well, Mattel relaunched Polly Pocket toys this year and a television series was made to accompany the relaunch (sell toys). In the series, Polly Pocket is an 11-year-old genius who inherits a magical locket from her grandmother that has the power to shrink people and objects down to pocket size. As you would imagine, zaniness, adventures and life lessons ensue as Polly discovers that with great power comes great responsibility. The concept provides an obvious opportunity to tell a Honey, I Shrunk The Kids type story, only this time, the shrinking is no accident and the tech-savvy genius is the kid and not a bumbling adult inventor like Wayne Szalinski. It's a fun and proven concept that could be given new life on the big screen with great characters and a solid story. The special effects heavy nature of this concept would also hugely benefit from modern technology.
Masters of the Universe
This is the big one and the most obvious. If Mattel Films does nothing else, it needs to help give us, finally, a good Masters of the Universe film (personally I'm actually weirdly fond of the Dolph Lundgren film, but it's not Masters of the Universe). Like Barbie, the endless production hell for this project at Sony saw the rights lapse and now it is back at Mattel. This is easily the most cinematic of these properties and it already has an established mythology thanks to the multiple cartoon series and comic books over the years. Unlike the other projects on this list, a Masters of the Universe movie should skew older and go for a truly epic, big-budget spectacle feel. As evidenced by the early 2000s TV series, the story's blend of technology and magic means that a proper Masters of the Universe film would be Lord of the Rings meets Star Wars. A blockbuster in that science fiction fantasy vein with He-Man's name recognition has franchise written all over it. Spinoffs, prequels, She-Ra, it's all on the table with Masters of the Universe. By the power of Grayskull, Mattel Films, please, get this right.
Thomas & Friends
Unlike Pixar's Cars films, which take place in a dystopian hell where humans have been genocided or worse yet, turned into the cars in an Annihilation-esque abomination of nature, in Thomas & Friends, the anthropomorphized locomotives live alongside homo sapiens in harmony on the fictional island of Sodor. Thomas the Tank Engine has been around in books and on television for decades and new episodes of the show are still entertaining and teaching kids to this day. This light-hearted series would work well as an animated adventure movie aimed at little kids. Obviously the Cars comparison might make such a project seem derivative, even though Thomas came first, but you can never underestimate how lucrative kids movies can be and a Thomas & Friends movie could differentiate itself in different ways. For example some Thomas & Friends iterations have included musical elements and the stories frequently find Thomas and his fellow locomotives helping out each other as well as the human characters. The longevity of this property and the brand recognition make it an obvious choice to get the big screen treatment.
Nick grew up in Maryland has degrees in Film Studies and Communications. His life goal is to walk the earth, meet people and get into adventures. He's also still looking for The Adventures of Pete and Pete season 3 on DVD if anyone has a lead.
Your Daily Blend of Entertainment News
Thank you for signing up to CinemaBlend. You will receive a verification email shortly.
There was a problem. Please refresh the page and try again.