Someone Imagined Stan Lee As Thor's Odin, And It's Fantastic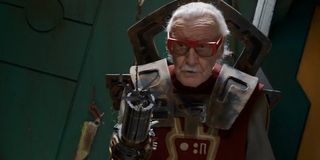 The Marvel Cinematic Universe may have grown exponentially in size and scale since Iron Man in 2008, but one small needle has been thread through every one of them, a cameo appearance from Stan Lee. In fact, as you might remember the former writer, editor-in-chief and publisher of Marvel Comics has been a constant in Marvel films before a unified MCU had even been created. His first on-screen cameo dates back to the first X-Men film back in 2000. Since then, the now 96-year-old icon has briefly appeared in nearly every Marvel film, often playing an unassuming elder with a cute and snappy line to break up the action and drama of the film. One might say he's the All-Father of Marvel Comics and in the hands of some Photoshop wizardry from a fan, Lee is the Father-god quite literally. Take a look!
Excelsior! Stan Lee makes for a quite convincing Odin in this fan photo found on Reddit. The thought of the Father-god of Norse mythology wearing a pair of large sunglasses such as Lee's is a bit comical, but other than that it's an amazing edit! Stan Lee would likely be unrecognizable without his iconic shades, anyway so if he ever took over for Odin for Anthony Hopkins, they might have to just stay. Lee might also have to trade his well-defined New Yorker accent for a much more ancient one if he signed on to play the Norse god and pack on some muscle. Logistics aside, it's a really fun edit that imagines the comic book writer as Odin, and we would love to see him in costume such as this in his next cameo, maybe in the next Thor?
Stan Lee jokingly said back in 2009 that he was considered for the role of Odin and wouldn't mind playing him, but Anthony Hopkins seems to have beaten him out thus far. His Oscar-winning, commanding presence is definitely a strong choice for Odin, and the actor magnificently played the role in each of the Thor films. In the last appearance of Odin in Thor: Ragnarok, the Father-god floated into the wind mysteriously, making it unclear if he actually died. Many deaths aren't permanent in the MCU, so his last appearance left potential room for Odin to return.
With a long line-up of Marvel films coming up, audiences will likely see many more cameos from Stan Lee in the future as long as he's still willing to keep up the tradition. Before the end of the year, Lee could potentially show up in Sony's Venom spin-off and the animated film Spider-Man: Into the Spiderverse. 2019 will also bring some more Marvel adaptations including Captain Marvel, X-Men: Dark Phoenix and Spider-Man: Far From Home.
Your Daily Blend of Entertainment News