Bohemian Rhapsody Reviews Are In, Here's What People Are Saying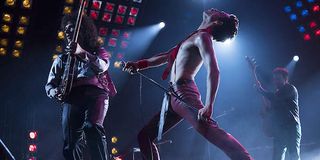 As 2018 winds down, the major studios are releasing their last batch of high profile movies in November and December. From action-packed blockbusters like Aquaman and Bumblebee to more kid-friendly fare like The Nutcracker and the Four Realms and The Grinch, there will be something for everyone to see on the big screen before the year is over.
One of the releases kicking off this period is Bohemian Rhapsody, the biopic about the rock band Queen, focusing in particular on lead singer Freddie Mercury. We're still a little over a week from Bohemian Rhapsody being released to the public, but reviews biopic have already poured in, and it appears that this biopic is quite the mixed affair.
Starting off, Jim Vejvoda from IGN awarded Bohemian Rhapsody a 7.3 out of 10 score, saying that the movie is "formulaic and conventional," but that doesn't mean it wasn't entertaining, and Rami Malek fortunately captures the "magnetism of the operatic" Freddie Mercury. Vejvoda also noted that despite Dexter Fletcher taking over directing duties from Bryan Singer, Bohemian Rhapsody doesn't feel like a clash of visions, though it nonetheless results in "textbook showbiz biopic storytelling."
Resting comfortably in the center of the critical spectrum, USA Today (opens in new tab)'s Brian Truitt gave Bohemian Rhapsody a 2/4 score, reaffirming that while Rami Malek gives a good performance as Freddie Mercury and the movie boasts an "absolutely killer soundtrack," the rest of the movie is "mostly a paint-by-numbers behind-the-music journey through the ups and downs of the iconoclastic British rock band."
Indiewire's David Ehrlich was much more negative towards Bohemian Rhapsody, giving it a D+. In Ehrlich's opinion, the movie comes across as a group of actors "cosplaying Queen's Wikipedia page" and fudging the facts whenever the story comes to close to making the band members seem like real people. It ultimately results in a "trite and textbook" experience.
Mara Reinstein from Us Weekly was much kinder to Bohemian Rhapsody, awarding it a 3/4 score. From her perspective, the movie does a great job of showcasing "the music in all its splendor," though she admits that many of Freddie Mercury's "crucial milestones are awkwardly shoe-horned into the plot" and that the dialogue is unlikely to win a screenplay award.
Back to those who really didn't care for Bohemian Rhapsody, Variety's Owen Gleiberman made sure to praise Rami Malek's Freddie Mercury performance like most other critics, but in his eyes, that's the movie's only redeeming factor. The rest is a "conventional, middle-of-the-road, cut-and-dried, play-it-safe, rather fuddy-duddy old-school biopic" that "skitters through events instead of sinking into them" and doesn't properly explore Freddie's personal life.
Moving back to 'meh' territory, Olly Richards from Empire gave Bohemian Rhapsody three out of five stars. He observed that the movie doesn't delve deep enough into the "bumps" that Queen dealt with on their road to success, and instead peers more closely at Freddie Mercury's personal story, albeit more often "alluding" to his passionate life rather than showing it.
Finally, The Hollywood Reporter's Sheri Linden stated that Bohemian Rhapsody is on its "surest footing" with the Queen musical sequences, and there are times when the four band members feel like they're really clicking, but otherwise, it's a biopic that favors "sensory experience over exposition."
Overall, it sounds like the one thing that's a complete blast in Bohemian Rhapsody is Rami Malek's turn as Freddie Mercury, who passed away in 1991 due to complications from AIDS. With the actor accumulating all this praise, perhaps he will score some nominations and even a few wins come awards season. The actor has previously shown off his performing talent in projects like 24, Papillon and Mr. Robot.
But aside from Rami Malek, Bohemian Rhapsody is nestled nicely in the middle of the proverbial table, currently ranking at 52% among critics on Rotten Tomatoes. Whether this impacts how many people go to see it in theaters or not, it does indicate that the movie as a whole might not be an awards darling, though that's not guaranteed by any means. It's worth noting that Bohemian Rhapsody had a more troubled production than most movies, as Dexter Fletcher was brought in to fill Bryan Singer's directing shoes during the middle of principal photography.
You can judge Bohemian Rhapsody for yourself when it arrives in theaters on November 2, so stay tuned to CinemaBlend for continuing coverage about the movie, including reading our own thoughts on the movie and learning how it performs at the box office. In the meantime, you can look through our 2018 release schedule to find out what this year's other remaining release are, as well as our 2019 release schedule to plan what to check out next year.
Your Daily Blend of Entertainment News
Connoisseur of Marvel, DC, Star Wars, John Wick, MonsterVerse and Doctor Who lore. He's aware he looks like Harry Potter and Clark Kent.