Infinity War Theory Claims Shuri Might Have Saved Vision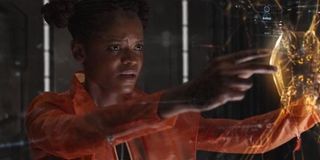 Since Avengers: Infinity War arrived in theaters back in April, every single frame of the acclaimed blockbuster has been discussed and dissected. This has only gotten more intense since The Russo Brothers' behemoth ensemble piece made its way to home video, and the hardcore fandom could take the time to truly examine each scene. As such, a new batch of fan theories are hitting the internet, and possibly decoding what the Brothers have planned for their still untitled Avengers 4.
One of the questions left unanswered in Infinity War was Shuri's fate, as she was last seen attempting to save Vision's psyche, therefore allowing him to survive if the Mind Stone was destroyed. It's unclear if she succeeded, or if the fan favorite Black Panther character survived Thanos' finger snap of death. Now a new fan theory indicates she may have rescued Vision after all.
Reddit user u/Iwillsmashu posted an extensive fan theory, after stopping every single moment from Shuri's climactic final moments in the movie. It's hard to keep track of exactly what the Princess of Wakanda was doing, but she seems to be working on the Mind Stone section by section, extracting Vision's personality from the stone.
This disconnection can be seen in each frame, and the map turns blue right before Shuri whips around to attack Corvus Glaive. This could indicate that Shuri ended up cracking the code in the knick of time, and that Paul Bettany's Vision might be brought back during the events of Avengers 4. Considering how many characters bit the dust during the course of Avengers: Infinity War, the Avengers are going to need all the help they can get in the forthcoming battle against Thanos.
Avengers: Infinity War ended with the already iconic Battle of Wakanda, where most of the blockbuster's heroes assembled to fight off Thanos' massive forces, and eventually the Mad Titan himself. While most moviegoers just remember the awesome action and horrifying result of the battle, it all happened so Shuri could save Vision's consciousness, therefore allowing the Time Stone to be destroyed forever-- and ending Thanos' quest for good.
But once the the pulse pounding sequence began, it quickly became clear the Shuri might not have enough time. She continues to communicate with her brother T'Challa, and he tells her to get a move on. But Shuri was never seen from again after she came to blows to Corvus, and so it wasn't made clear whether or not Vision could be saved.
Shuri's fate was ultimately left unknown at the end of Avengers: Infinity War, joining the likes of Wong, Pepper Potts, and a few other supporting characters who may or may not have survived Thanos' finger snap. Once he finally collected the Mind Stone (thanks to going back in time and ensuring it was intact), half of the galaxy turned to dust before our eyes. But since Shuri wasn't in the field with the rest of the heroes, we never saw if she made it through.
Following her debut in Black Panther, Letitia Wright's Shuri quickly became a fan favorite of the Marvel Cinematic Universe. Ryan Coogler's acclaimed Marvel blockbuster reached a massive audience, breaking box office records in the process. Shuri brought a youthful energy and plenty of moments of levity to Black Panther, and fans are eager to see more of T'Challa's genius kid sister in the greater Marvel Cinematic Universe.
Given the uneasy state of the overall MCU, Shuri has the potential to become an even more significant character in the overall serialized story. Many of Marvel's OG stars are reaching the end of their contracts with Avengers 4, with their superhero mantles likely needing to be passed down upon their exit. So could Shuri end up being more than simply the T'Challa's sister?
Shuri's technological genius rivals that of Tony Starks, so it seem plausible that Letitia Wright's character might end up taking on his responsibilities if Robert Downey Jr. ends up departing the MCU. A new Iron Man might be needed as well, so the possibilities seem endless.
It also seems logical that Shuri could end up taking on the mantle of Black Panther, and sooner than one might think. While Chadwick Boseman's tenure as T'Challa has only just begun, the King of Wakanda was one of the many heroes who turned to dust after Thanos used the Infinity Gauntlet to wipe out half the galaxy. Shuri would be next in line for the succession, so perhaps we'll see a female Black Panther when Avengers 4 finally arrives in theaters, and answers our myriad questions about the state of the MCU.
If Shuri does end up becoming Black Panther, it's unclear how long it would last. It seems inevitable that her brother will eventually be resurrected, alongside the rest of the Marvel characters who turned to dust when Thanos snapped his finger. Black Panther as a franchise has only just begun, as is Chadwick Boseman's tenure as a Marvel hero. Then again, perhaps they'll both have the power, and share the spotlight a la Ant-Man and The Wasp.
It should also be fascinating to see where Vision's storyline ends up going when The Russo Brothers' final Marvel blockbuster finally arrives in theaters. Vision perished in Avengers: Infinity War-- more than once. The first of his deaths was arguably the most horrifying, as Elizabeth Olsen's Scarlet Witch was forced to destroy the Mind Stone and her lover in the process.
Unfortunately, Doctor Strange had already handed over the Time Stone to the Mad Titan, so Thanos pulled a Cher and turned back time. Thanos ripped the Mind Stone from his head, and the android turned grey and lifeless. But if Shuri was able to save the Avenger's consciousness before being interrupted, then Paul Bettany's character has the potential to return to the main timeline of Avengers 4-- and hopefully avenge Wanda's death in The Snap.
All will be revealed when Avengers 4 arrives in theaters on May 3rd, 2019. In the meantime, check out 2019 release list to plan your trips to the movies in the New Year.
Corey was born and raised in New Jersey. Double majored in theater and literature during undergrad. After working in administrative theater for a year in New York, he started as the Weekend Editor at CinemaBlend. He's since been able to work himself up to reviews, phoners, and press junkets-- and is now able to appear on camera with some of his famous actors... just not as he would have predicted as a kid.
Your Daily Blend of Entertainment News
Thank you for signing up to CinemaBlend. You will receive a verification email shortly.
There was a problem. Please refresh the page and try again.