Why Disney Not Pushing Avengers: Infinity War For The Oscars Is A Huge Mistake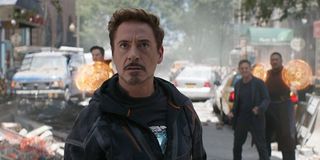 Superhero movies never were confused with Oscar contenders. Years ago, there was arthouse prestige and summer-blockbuster fare, and never the two ever met. But Christopher Nolan's The Dark Knight started to change that conversation, while recent films such as Wonder Woman and Logan continued the push toward seeing a comic-book adaptation become a legitimate Best Picture contender. This year, Disney is putting a lot of its Awards Eggs into the basket of Black Panther, ignoring Avengers: Infinity War in the process, and I'm telling you, that's a huge mistake.
We're officially in the Oscar season -- a time of the year that technically happens all year, but really ramps up in October, November and December. Films with Oscar aspirations, from Boy Erased and Green Book to If Beale Street Could Talk, start to arrive in theaters.
At the same time, studios mount For Your Consideration campaigns to remind awards nominators of the excellent films that came out earlier in the year that still deserve Oscar love. It's here, on Disney's official FYC site, that we learn of the categories it will campaign for on behalf of its films. And there's a distinct disparity.
Ryan Coogler's Black Panther -- an excellent superhero film and an outstanding feature, period -- will receive the complete awards push from Disney. The studio is lobbying for all of the expected technical categories (Visual Effects, Sound Mixing, Film Editing, Cinematography) as well as all of the above the line categories, from Actor and Director to Best Picture. Disney wants Black Panther to make a HUGE splash at the Oscars.
Meanwhile, across the proverbial aisle, Joe and Anthony Russo's monumental achievement, Avengers: Infinity War, is being campaigned for one category: Best Visual Effects. That's all. Nothing else.
That's a slap in the face.
It's also a mistake, because from top to bottom, Avengers: Infinity War is a better film. Listen, we're comparing an A+ to an A, and everyone's opinions are going to be different. My take is that the Russos tackled, and accomplished, more in Infinity War in terms of storytelling, character arc and effects composition that Ryan Coogler was even asked to do in Black Panther. And to campaign for one but not the other is a short-sighted mistake.
We'll get to why I think Disney's choosing Black Panther over Avengers: Infinity War in a bit. For now, let's discuss the other categories that SHOULD be on Disney's FYC page for Joe and Anthony Russo's masterpiece.
Seeing only one category on the page makes it look like a mistake. If Black Panther is lobbying for nominations in the tech categories of Best Visual Effects, Best Sound Mixing, Best Costume Design, Best Sound Editing and more, why wouldn't Avengers: Infinity War also contend for recognition in those fields?
The Marvel movies routinely compete in the Best Visual Effects category, with films such as Doctor Strange, Iron Man 3 and Guardians of the Galaxy landing in the Oscar category over the years. This one's almost a given for Marvel Studios, the way Pixar expects to be in Best Animated Feature every year it has a movie in theaters.
Marvel has not been as successful in the Sound Mixing and Sound Editing categories, though these are often populated by blockbusters that are effects driven. Star Wars: The Force Awakens, Rogue One: A Star Wars Story and The Hobbit: The Desolation of Smaug are three like-minded blockbusters that received Oscar nominations in these tech categories, and Avengers: Infinity War has every right to throw its hat into the consideration ring for all of its technical achievements, not just Best Visual Effects.
Feeling more brazen? Get crazy. Mount a push for Josh Brolin in the Supporting Actor category, and try to make headway in the battle to recognize motion capture as actual acting.
Arguably, Avengers: Infinity War is Thanos' movie. All of the action is structured around him -- whether it involves his quest to obtain the Infinity Stones, or the heroes' mission to stop him. And Brolin, using cutting-edge mo-cap technology, pours compassion and pathos into a genre-defining villain performance that raises the bar on the type of characters that can now exist in a blockbuster.
Josh Brolin, the actor, isn't visible in Thanos as we watch the Mad Titan come alive on screen. And yet, without Brolin, there IS no Thanos. Just like there is no Caesar in the Planet of the Apes movies without Andy Serkis. I am not exaggerating when I say that the work put in by Brolin and his team to bring Thanos to life in Avengers: Infinity War is Oscar worthy. Disney not bothering to even campaign on his behalf is a mistake.
This is not a "Black Panther versus Infinity War" discussion. Currently, both movies are on my own personal Top 10 list of the year, and I'd be thrilled to see both movies go deep in the Oscar race (ahead of obvious Oscar bait like First Man).
My larger point is that Disney is going to campaign heavily in favor of Black Panther, why not also lobby for recognition for its equally impressive (I'd argue MORE impressive) Avengers: Infinity War?
So why is Disney choosing Black Panther over Avengers: Infinity War in the year-end Oscar race? Basically because it appears that they don't want to compete against themselves in any of the major categories, and they believe that Ryan Coogler's film has a better shot at overcoming the obstacles already associated with being a superhero movie at the Oscars, so it's best to back one horse and hope its success floats all boats.
Signs would indicate that Disney's correct, and that Panther has the better odds. Earlier this year, the Academy temporarily floated with the idea of creating a Popular Oscar category, freeing up the membership to recognize an audience-friendly film in a separate category, then grant the "real" Best Picture win to a traditional Oscar film. Whatever that may be.
At the time, the Popular Oscar category was jokingly called The Black Panther Oscar, since it was viewed as a blatant attempt by the Academy to recognize a financially successful popcorn film that also addressed the body's need to attract and honor more diversity.
The category quickly died (as it should have), but the momentum for Black Panther did not. Many still believe that Ryan Coogler's boundary pushing achievement still deserves all sorts of awards consideration, thereby resulting in Disney's massive push to keep it on the radars of all awards-nominating committees.
I agree with them. Black Panther should contend for Oscars. But not at the expense of Avengers: Infinity War. Joe and Anthony Russo tackled a massive story with countless significant characters, shining the spotlight on a CGI villain who became a living, breathing threat to half of our planet's very existence. Infinity War is a mind-blowing technical achievement, and a staggering entry in what's already the Golden Age of comic book films.
To me, it's the best Marvel Studios film released this year, and campaigning for one but not the other feels like a slight to the Russos, and a major mistake.
Your Daily Blend of Entertainment News
Sean O'Connell is a journalist and CinemaBlend's Managing Editor. He's frequently found on Twitter at @Sean_OConnell. ReelBlend cohost. A movie junkie who's Infatuated with comic-book films. Helped get the Snyder Cut released, then wrote a book about it.