Deadpool 2's PG-13 Cut Has A Title And It's Perfect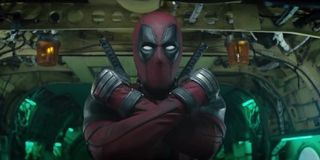 Deadpool 2 already had its time in theaters during the summer, and once the sequel was released on home media in August, we figured that was the end of its journey. However, it was announced last month that a PG-13 cut of Deadpool 2 would hit the big screen in December, and now we finally know what that this cut of the movie will be fittingly called Once Upon a Deadpool.
It had initially been reported that this new version of Deadpool 2 would be called The Deadpool Before Christmas, playing on the fact that it was coming out during the holiday season. However, that has officially been debunked, and instead, Once Upon a Deadpool is playing on the fairytale angle, which is great and appropriate considering that it's using a framing device parodying The Princess Bride, adult Fred Savage included. Ryan Reynolds and writers Rhett Reese and Paul Wernick conceived the sequence and shot it in just one day.
This title wasn't the only thing revealed about Deadpool 2's return to theaters. For those of you interested in checking out Once Upon a Deadpool, it will have a "limited engagement" on the big screen starting December 12 and end on Christmas Eve. Although this Princess Bride sequence provides extra incentive for people who already saw Deadpool 2 to check out this new cut, most of Once Upon a Deadpool is footage cut from the original movie to meet PG-13 standards. Once Upon a Deadpool ends up being three minutes shorter than the theatrical cut of Deadpool 2, although 20th Century Fox didn't comment about how much of the new runtime is new footage.
There's also a charitable component to Once Upon a Deadpool, as some of the movie's proceeds will be donated to a noble cause. As Ryan Reynolds told Deadline:
While the idea of a PG-13 Deadpool 2 still sounds strange given how the original cut and the first Deadpool movie are packed with profanity, raunchy material and excessive violence, this should nonetheless prove to be an interesting experiment. That Princess Bride aspect at least brings something new to the table, and it's commendable that some of its box office haul will be sent to Fudge Cancer (remember, the charity won't be permanently called that).
Ryan Reynolds also added that while he initially wasn't fond of the idea of a PG-13 Deadpool movie that Fox kept pitching him, he finally agreed to it, but with some stipulations. As Reynolds put it:
Playing along with the gag, Fred Savage said in a separate statement that while his participation in Once Upon a Deadpool was "anything but voluntary," he's glad that Fudge Cancer will be reaping the benefits of this "shameless cash grab."
Like its predecessor, the original Deadpool 2 proved itself to be a huge commercial success, making over $734 million worldwide. However, as noted in Deadline's report, this was the only Fox release to crack the Top 30 this year. Once Upon a Deadpool provides the opportunity to not only score some extra cash, but also be used as the franchises' "first viable play" in China, which has become an increasingly important movie market.
There's also the Disney of it all to consider. The Mouse House's acquisition of Fox is set to go into effect in early 2019, and once that's done, then the X-Men and Fantastic Four properties can be absorbed into the Marvel Cinematic Universe. Supposedly the Marvel and Disney leadership are watching how Once Upon a Deadpool performs. If it does particularly well, that may factor into their plans for the Merc with the Mouth.
On the movies side of things, the MCU has always stuck in PG-13 territory, and there's no sign of that changing anytime soon. Last year, Disney CEO Bob Iger said there might be an opportunity to create a "Marvel-R-brand" so characters like Deadpool who are handled with a more mature hand wouldn't be affected once they're with Marvel Studios. However, maybe that plan will be tossed out if Once Upon a Deadpool is a hit, and Wade Wilson subsequently becomes a protagonist that older kids/teens can watch in theaters without a parent or guardian accompanying them.
It's also worth mentioning that Once Upon a Deadpool is coming in a particularly crowded December. Two days after it drops, Spider-Man: Into the Spider-Verse and Mortal Engines are coming out, and the next week marks the release of Mary Poppins Returns, Aquaman and Bumblebee, among others. With all that competition, it's hard to say just how many people will turn out to see Once Upon a Deadpool when there's so much new content available.
In any case, if you're looking to enjoy Deadpool back on the big screen again or want to indulge the young'uns who weren't able to watch the first two Deadpool releases in theaters, Once Upon a Deadpool will be around for less than two weeks. You probably won't get much in the way of holiday cheer, but if the filmmakers did a good job putting this cut together for a more family-friendly audience, there will still be plenty of laughs.
Again, Once Upon a Deadpool will screen over a 12-day period starting December 12. After that, it's unclear if/when this PG-13 cut will be released on home media, so stay tuned to CinemaBlend for updates. For now, you can always check out the original Deadpool 2 and its extended edition on home media. As for what else is coming out before the year is over, head to our 2018 release schedule for that information.
Your Daily Blend of Entertainment News
Connoisseur of Marvel, DC, Star Wars, John Wick, MonsterVerse and Doctor Who lore. He's aware he looks like Harry Potter and Clark Kent.