The Final Aquaman Trailer Shows A Very Young Arthur Curry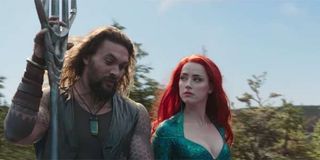 We're rapidly approaching the next venture in DC's movie universe, Aquaman. We've already seen a lot of footage from the film, including a shot of Arthur Curry jumping out of a plane and more. As it turns out, he was a bit of a daredevil as a youngster as well. In the final trailer for James Wan's upcoming movie, we see Jason Momoa's character as an adorable little boy and then a young man who jumps off cliffs and more. Take a look.
We've known for a while that Aquaman would feature some big names, including Nicole Kidman playing Queen Atlanna and Willem Dafoe playing Vulko. Other big names like Jason Momoa and Amber Heard, who we first saw in Justice League, will be in the flick, as well. But stealing the spotlight in the latest look at the movie are the young men who will be playing Arthur Curry earlier on in his lifetime. Move over, Jason Momoa. Young actors like Kaan Gulder and Otis Dhanji are totally stealing the spotlight here, at least in terms of adorableness.
Previously, a nearly 6-minute look at the new Aquaman movie gave us a glimpse of Arthur Curry's origins, including a shot of his pregnant mother and the character as a baby boy, but this new trailer really explores what it meant to be Arthur Curry growing up, a young man stretched between both worlds. The bulk of the previous footage used James Wan's impressive underwater footage to get us excited about the flick; this time around, the marketers are ramping up the cute factor, instead.
This time around, I'm also getting vibes that sort of harken back to Wonder Woman's origin story. In that movie, Patty Jenkins really gave us enough of Diana's growing up experience to help the fish out of water story really land with audiences later. If it worked for Wonder Woman, hopefully it will work for Aquaman, as well.
In one really cool shot in the trailer, Arthur Curry is training "to be the best," catching his trident bare-handed and then cutting to a shot of the adult Arthur Curry pulling the same trick. It's an effective bit of marketing and sets up for the final trailer explaining exactly how one particular trident could help Arthur Curry unite the surface with the underwater communities... or how in the wrong hands that same trident could lead to utter destruction.
On one final note, Nicole Kidman also gets a really clear action sequence teased in this trailer. I'm particularly pumped to see her really go full action heroine on the big screen. Mostly these trailers have sold me on catching the DC flick, even though we've seen a bunch of footage so far. Luckily, this seems to be the last of the bunch, and if you'd like to see how all of these little parts make one big whole, you can catch Aquaman in theaters beginning on December 21.
If you aren't totally up on what all we know about Aquaman so far, be sure to take a look at our full guide.
This poll is no longer available.
Reality TV fan with a pinch of Disney fairy dust thrown in. Theme park junkie. If you've created a rom-com I've probably watched it.
Your Daily Blend of Entertainment News
Thank you for signing up to CinemaBlend. You will receive a verification email shortly.
There was a problem. Please refresh the page and try again.