Spider-Man: Into The Spider-Verse Reviews: What CinemaBlend Thought Of The New Animated Movie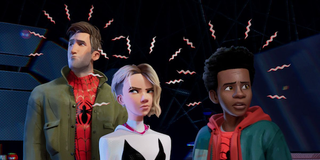 Since Sam Raimi and Tobey Maguire brought us the first big screen Spider-Man movie in 2002, we've seen the web slinger on the big screen more than any other hero. Now, Spider-Man makes the jump to animated feature with Spider-Man: Into the Spider-Verse, a movie with more Spider-Men (Spider-Mans? Spider-People?) than any that came before. How does the new movie compare to those that preceded it? Remarkably well.
CinemaBlend Events Editor Eric Eisenberg wrote the official review for us here and he gave it a perfect five-star rating. He says it's creative and funny, and really has only the most glowing things to say.
While we've seen Spider-Man on the big screen before, and we've seen the character in animated form on television, this is the first time that the two things have come together into an animated feature film. Shift Editor Adam Holmes says that the film's unique animation style is one of the reasons that Into the Spider-Verse is something special.
Spider-Man is one of the most popular comic book characters in the world, but for Managing Director Sean O'Connell, the character is very special. As such, he can be quite critical of the nuances within the story and the character, but for him, not only is Spider-Man: Into the Spider-Verse a great movie, it is, to date, the definitive version of the character on film.
Some of the biggest changes in Into the Spider-Verse are focused on the simple character switch of making Miles Morales, and not Peter Parker, the main character of the story, but that decision affects so mucgh about trhge movie as a whole that it feels entirely fresh and different,
2018 has been a remarkably good year for the superhero movie genre. With Marvel's epic, Avengers: Infinity War to its potential Best Picture nominee Black Panther, the bar for the genre is incredibly high right now. Marvel has produced some remarkable achievements. Having said that, Senior Movie Contributor Mike Reyes is of the opinion that Into the Spider-Verse is actually a better Marvel superhero movie than anything actually produced by Marvel Studios.
It does seem like this one blows away expectations because we largely didn't see it coming. With the film being animated while most of our focus has been on live-action superheroes, this one snuck up on us. We probably should have seen it coming. Producers Phil Lord and Christopher Miller have made a career out of taking existing properties and twisting them into new ways that we never saw coming. From 21 Jump Street to The LEGO Movie, we end up happily surprised at every turn.
And finally, you can add my voice to the choir. Spider-Man: Into the Spider-Verse is so refreshing that it doesn't even feel like it's a character we've seen before and now all I want is to see more of it.
Of course, we do already know that we're going to get more from the Spider-Verse, as a sequel and a Spider Gwen focused spinoff have apparently already been greenlit by Sony. Between the other characters that the new movie introduces and the essentially limitless number that could be introduced, we could potentially see a lot more from this particular cinematic universe. If they can be as good as this one, I'm ok with that.
We don't always agree here at CinemaBlend, but when it comes to Spider-Man: Into the Spider-Verse we could not be more in agreement. This movie isn't just good, it's straight up great. If you're even just a casual fan of Spider-Man, superheroes or even just animation, you owe it to yourself to check this one out.
Spider-Man: Into the Spider-Verse is in theaters now. Seriously, go, go now.
CinemaBlend's resident theme park junkie and amateur Disney historian. Armchair Imagineer. Epcot Stan. Future Club 33 Member.
Your Daily Blend of Entertainment News
Thank you for signing up to CinemaBlend. You will receive a verification email shortly.
There was a problem. Please refresh the page and try again.