Talking Aquaman With Zack Snyder Got Really Awkward, According To Amber Heard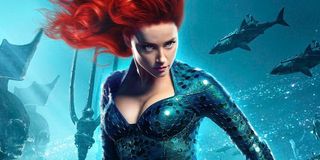 Getting to work on a superhero movie can be an incredible opportunity for many actors, but these are also among the more unusual types of projects to perform in. Aquaman, in particular, is a strange beast, as a lot of the movie is set underwater in various colorful kingdoms. So if you're not properly clued in on its general premise, you might find yourself confused. That's what happened when a friend of Amber Heard's overheard her talking with director Zack Snyder about the Aquaman mythos within the DC Extended Universe, as Heard recalled:
Even though Aquaman has existed since 1941 (he was created by Mort Weisinger and Paul Norris for More Fun Comics #73), the character is hardly at the same level of popularity as fellow DC Comics heroes Batman, Superman and Wonder Woman. So right away, that places the half-human, half-Atlantean protagonist and his mythos at a disadvantage with people who only have a passing knowledge of comic book lore. Throw in a one-sided phone conversation where all you hear is someone asking about blowing a bubble for talking, and yeah, it's understandable why things got awkward for Amber Heard and her friend.
It's one thing if Amber Heard's friend had overheard her mentioning Gotham City, heat vision or the Lasso of Truth, as those are easy enough to match with the appropriate hero. Just hearing about talking inside a bubble, that's just not enough context to pinpoint what the conversation is about, and if Heard wasn't an actor, I wonder if her friend would have thought she was crazy as opposed to just being weird.
It sounds like this tale that Amber Heard recounted while speaking with MTV News alongside Jason Momoa and Patrick Wilson took place ahead of Justice League, as Zack Snyder was the one initially helming that blockbuster event. James Wan was hired to direct the standalone Aquaman movie, but Snyder is responsible for bringing in both Momoa and Heard to play Arthur Curry and Mera, respectively, though Momoa made his DCEU debut in Batman v Superman: Dawn of Justice through a video footage cameo on Lex Luthor's metahuman files. A year and a half later, Justice League arrived, and among its offerings was Heard as the first live action Mera.
For those who need a refresher on Mera's role in Justice League and how conjuring that talking bubble looked in the end, check out the below clip of Arthur Curry and Mera fighting alongside each other against Steppenwolf and their conversation afterwards.
In the last few decades, Aquaman has started earning more respect and has been distanced from his ridiculed reputation from the Super Friends days. The Justice League animated series and Geoff Johns' comic book run at the start of the New 52 reboot helped with this, but needless to say that Aquaman finally appearing in live action has done wonders with not only simply introducing the character too folks unfamiliar with DC Comics in general, but also making it clear that when properly written, he's a component, badass superhero. Now the Aquaman movie will prop the proverbial door open to the rest of his mythos, including Mera graduating from a minor player to one of the main leads.
Oh, and for those who are curious, it looks like Aquaman will be moving past conjuring air bubbles for its characters to to talk underwater. As James Wan said this past summer, this time around, Arthur Curry and the gang will just speak normally, so don't overthink it.
Taking place after the events of Justice League, Aquaman follows Arthur Curry reluctantly returning to Atlantis to take the throne from his half-brother Orm, who wants to unite the seven underwater kingdoms together to attack the surface world after finally getting fed up with humanity polluting the oceans for so long. Since this is an over-two hour movie, obviously this conflict won't be wrapped up instantly, and along with fighting threats underwater, both Arthur and Mera will go on a surface journey that will see them tangling with Black Manta and his goons.
Along with Jason Momoa and Amber Heard, Aquaman's main cast includes Willem Dafoe as Vulko, Patrick Wilson as Orm (a.k.a. Ocean Master), Yahya Abdul-Mateen II as Black Manta, Dolph Lundgren as Nereus, Nicole Kidman as Atlanna and Temuera Morrison as Thomas Curry. In addition to directing, James Wan crafted the basic story with Geoff Johns and Will Beall, while Beall wrote the screenplay with David Leslie Johnson-McGoldrick.
The sixth DCEU movie has already opened in China, the United Kingdom and several other international territories, and has currently made over $261 million worldwide. That's an impressive start and already covers the movie's immense budget, but we'll have to wait and see how Aquaman performs commercially in the United States. Let's not forget it's also opening the same day as fellow blockbuster Bumblebee and follows two days after Mary Poppins Returns. Still, if the movie can keep up this momentum, ideally that bodes well for Aquaman 2 moving forward. Critically, Aquaman has been drawing decent reception, ranking at 71% among critics on Rotten Tomatoes.
Aquaman makes a splash in theaters this Friday, December 21, but be sure to read CinemaBlend's review of the latest DCEU movie now. Stay tuned for more coverage on Aquaman and whether a sequel will get the green light. In the meantime, find out what else this superhero franchise has in the works by looking through our handy guide, or venture outside the DC realm and discover what's coming out next year in our 2019 release schedule.
Connoisseur of Marvel, DC, Star Wars, John Wick, MonsterVerse and Doctor Who lore. He's aware he looks like Harry Potter and Clark Kent.
Your Daily Blend of Entertainment News
Thank you for signing up to CinemaBlend. You will receive a verification email shortly.
There was a problem. Please refresh the page and try again.