Why Spider-Man: Into The Spider-Verse 2 Should Incorporate Original Spidey Actors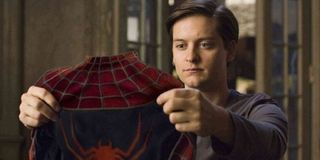 Spider-Man: Into The Spider-Verse introduced several alternate versions of the hero to a mainstream audience, and while those eclectic characters certainly have me excited to see more, I also have another request. Frankly, it was a shame we saw so many Peter Parkers introduced into the film, and none of them were voiced by Tobey Maguire, Andrew Garfield, or Tom Holland. If the franchise does return for a new adventure, these guys, and other characters need to be involved.
Before I get in too hard on the why, it needs to be said co-director Rodney Rothman has somewhat addressed why this didn't happen. While the decision seems so obvious, there was legitimate worry before Spider-Man: Into The Spider-Verse that bringing Tobey Maguire in to voice middle-aged Peter Parker would've confused film audiences. The studio landed on franchise newcomer Jake Johnson instead, and in doing so side-stepped any questions on whether that Spider-Man was the same from Sam Raimi's films.
It's understandable studios would be wary to introduce such mega cameos right off the bat, especially when introducing a concept like the Spider-Verse into the mix. That said, with the film firmly establishing where these Spider-heroes come from and what they're about, I don't think anyone is going to be confused by letting these actors reprise their roles. Once audiences hear the voices, surely they'll have no problem understanding what's happening.
It needs to happen, because the Spider-Man franchise has gotten this rare opportunity to unite all the actors who have made the character iconic. Furthermore, it has an opportunity to do so in a way that works, as Into The Spider-Verse has already presented the theory that each reboot is a Peter Parker from another Earth. How many film franchises can boast they've brought multiple actors back from past films to play the same role on screen at the same time?
One popular franchise has done that quite a few times, and fans always seem to love when Doctor Who brings two Doctors together. Different actors who portrayed the character have teamed up as the character in the past, and it's often a good time. Even if each live-action Spider-Man is somewhat basic in comparison to other choices, there's still something to be said for the sheer entertainment factor in seeing those who played the role teaming up.
This is all assuming, of course, that an Into The Spider-Verse sequel would enlist former live-action actors to reprise their character roles. While that certainly would be a dream come true, there's also an argument to be made that bringing them in to play other characters wouldn't be the worst thing. For example, having Andrew Garfield come back to voice the UK Spider-Man using his actual British voice is the type of creative casting that, in our opinion, would be amazing.
Of course, this works because Andrew Garfield didn't use that voice when he played Peter Parker. When one starts talking about bringing in former stars to voice new characters, then it's much easier to understand how audiences may get confused. Bringing in Tobey Maguire to portray an alternate Spider-Man or different character could be a bit confusing, and it's safe to say doing that with Tom Holland as another character while still playing Spider-Man would be baffling.
For that reason, it's going to be best that if former live-action actors are utilized for Into The Spider-Verse, they're utilized specifically to play their past roles. If Willem Dafoe is coming into a sequel voicing Venom, that's just a waste. Audiences would almost certainly be more excited to hear him return as Norman Osborn, even if that wouldn't make much sense following the events of Sam Raimi's Spider-Man.
Plus, when actors who played other roles in live-action Spider-Man films start appearing in Into The Spider-Verse, then things get confusing. The pool of voice acting talent is far too deep for Sony to start just casting former actors in new roles and potentially jeopardizing the odds of the central three actors who played Spider-Man returning. Plus, wouldn't it be great to have everyone available in the freak chance each character got a miniature story?
Obviously doing something like that would step on the toes of a story that is really about Miles Morales, but imagine even a 2-3 minute scene of Tobey Maguire's Peter interacting with Kirsten Dunst's Mary Jane? It's a way to recreate a connection with the characters, and add some story to one that doesn't possibly have a chance to continue otherwise. Maguire isn't going to come back to the role in live-action in his 40s. That makes no sense. In animation, however, the sky is the limit.
At the very least, Marvel should prioritize finding a way to bring in at least Tom Holland, especially with the two franchises existing simultaneously. With Avengers 4 presumably removing any plot points that would make a meeting of Miles and Holland's Peter problematic, there's really no reason to keep these two apart. In fact, bringing Holland into animation allows for Miles Morales to properly enter the MCU.
Let's also remember that Tom Hardy's Venom is also available to appear in Spider-Man: Into The Spider-Verse. With so many mixed feelings about his character and a sequel looking like a strong possibility, an appearance in an animated sequel might help warm some people over to seeing him reprise the role in a second Venom. Honestly, Hardy's Eddie Brock may translate better via animation than it did with live-action.
Bottom line, Sony has something truly special on its hands with Spider-Man: Into The Spider-Verse. Letting this idea come and go without using it to call back to the franchise's past and giving audiences a chance to get another moment with characters they fell in love with would be a travesty. The world will keep spinning if it doesn't happen of course, but we'd all have to live with the fact that an opportunity like this may never come again.
For the time being, a sequel from Spider-Man: Into The Spider-Verse is strictly speculative. The film is still in theatres, so be sure to see it and read up on John Mulaney's idea for a Spider-Ham spinoff that sounds so goofy, it just might work.
Mick likes good television, but also reality television. He grew up on Star Wars, DC, Marvel, and pro wrestling and loves to discuss and dissect most of it. He's been writing online for over a decade and never dreamed he'd be in the position he is today.
Your Daily Blend of Entertainment News
Thank you for signing up to CinemaBlend. You will receive a verification email shortly.
There was a problem. Please refresh the page and try again.