The Times Tom Holland Has Spoiled Marvel Secrets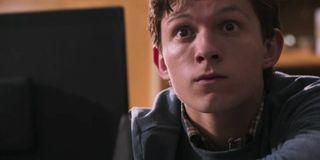 At this point, one of the most endearing, long-running jokes to come out of the Marvel Cinematic Universe is Tom Holland's inability to keep a secret. The Spider-Man: Homecoming star has become notorious for his ineptitude with spoilers, becoming a hilarious liability for Marvel whenever he finds himself entrusted with sensitive information.
Marvel has managed to succeed in keeping him quiet on numerous occasions, such as keeping Doctor Strange's Benedict Cumberbatch around to chaperone him on the Avengers: Infinity War press circuit, or when Holland burned his Infinity War script after accidentally taking it home. However, we have put together a list of moments when Holland couldn't control himself and accidentally spilled the beans. On that note, let's get started with the recent reveal of Spider-Man: Far From Home's subtitle.
Spider-Man: Far From Home's Title
This is one of the more recent examples on this list. Earlier this summer, Tom Holland took to social media to address his fanbase and provide an update on his upcoming projects, and he while he personally admitted that he didn't have any updates about Spider-Man: Homecoming 2, he then showed fans a tablet with the script's front page on full display, thus revealing to the world that the film would be called Spider-Man: Far From Home. It's difficult to say whether or not this was intentional on Holland's part, but compared to other entries on this list, it does feel a bit more staged.
The Fact That Homecoming Is A Trilogy
It's no secret that Marvel likes to plan out its movies and create long-running storylines that take years to pay off. Though Spider-Man is a relatively recent addition to the MCU lineup, it looks like the powers that be at Marvel Studios have long-term plans for Tom Holland in the red and blue tights. At least, that's what Holland accidentally let slip during the press tour for Spider-Man: Homecoming, when the young actor revealed to the world that Marvel was planning a trilogy of films to focus on the adventures of Peter Parker. Holland caught himself after revealing that bit of information, but at that point, the cat was already out of the bag.
That Time He Spoiled Infinity War For An Entire Theater
Talk about the all-time worst moment to reveal a major spoiler for Avengers: Infinity War. The Russo brothers' 2018 epic was one of the most closely-guarded secrets that Marvel Studios ever produced, and many fans took extra steps to make sure that the film would remain a complete surprise prior to their first viewing. Then, along came Tom Holland, who went into a theater full of rabid fans to promote the movie that they were about to watch, but then proceeded to say "I'm alive!" essentially spoiling the big Infinity Stones twist involving Thanos snapping his fingers and killing half of the Avengers roster in the process.
That Possible Avengers 4 Spoiler
This is one of the most recent spoilers, and it also could end up having one of the biggest impacts on Marvel fans going forward. We still have quite a while until Avengers 4's release date rolls around on May 3, 2019, but Tom Holland recently spoke out about working on the film and briefly discussed the process of working in the Quantum Realm. We don't know exactly what this means, but this could potentially reveal how Peter Parker survived the events of Avengers: Infinity War, and explain how Avengers: Infinity War and Ant-Man and The Wasp will eventually tie into the final Phase 3 movie. Let's just hope Avengers 4 has more secrets than that.
Bonus: He Spoiled Jurassic World: Fallen Kingdom For Chris Pratt
While this one technically isn't a Marvel Cinematic Universe secret by any stretch of the imagination, it's still so quintessentially Tom Holland that we need to include it anyway. For those of you who don't know, Tom Holland and Jurassic World: Fallen Kingdom director J.A. Bayona have known each other for quite a while, and Holland even helped out during the production of A Monster Calls. Holland knew several plot details for the recent Jurassic sequel while working with Guardians of the Galaxy actor Chris Pratt, and it turns out that he totally spilled the beans about the entire plot of Fallen Kingdom and gave his co-star a complete beat-for-beat rundown of the film.
Your Daily Blend of Entertainment News
Originally from Connecticut, Conner grew up in San Diego and graduated from Chapman University in 2014. He now lives in Los Angeles working in and around the entertainment industry and can mostly be found binging horror movies and chugging coffee.