Why Robert Zemeckis Felt Welcome To Marwen Was A Great Chance To Return To Performance Capture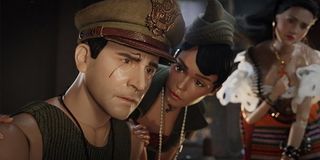 Technology has long had a key role in the filmmaking process for director Robert Zemeckis, and that includes having been an early adopter of motion capture. He was notably the first one to make entire films using the then-nascent visual effects -- including titles like The Polar Express, Beowulf, and A Christmas Carol -- and he played a vital role in the growth of the technique. His run of motion capture movies ended in 2009, leading to features like Flight, The Walk, and Allied, but it was in taking on his latest project, Welcome To Marwen, that he saw an opportunity to experiment once again:
I had the great pleasure of sitting down with Robert Zemeckis earlier this month during the Los Angeles press day for Welcome To Marwen for an on-camera interview, and the use and development of motion capture technology was central to the conversation. At the start I was curious if the visual effects work was the only methodology considered when figuring out how to properly bring the story to life, and the writer/director explained how its usage was entirely tied to his earliest vision for what the film would be when he first watched the documentary Marwencol and became inspired.
The use of motion capture -- also known as performance capture -- is used in the movie to bring life to Marwen: a World War II-era Belgian city that entirely exists in the mind of artist Mark Hogancamp, and is brought to life with scale models and dolls that he keeps set up in his backyard. The characters that inhabit Marwen are all badass representations of the people in Mark's life, but the larger narrative is also strongly influenced by a traumatic and violent attack that Mark experienced and resulted in an extended coma and permanent memory loss. While he can't draw like he used to, he can express his vision through the drama and action that unfolds in Marwen, and winds up gaining great popularity and notoriety for his work. Unfortunately, he also remains stunted and crippled from recurring memories of the horrific event that changed his life forever.
One thing that differentiates the technological character representation in Welcome To Marwen compared to Beowulf or A Christmas Carol is that the performers aren't technically playing humans; they're playing dolls. I was curious if this had an impact on the way that Robert Zemeckis had his cast act when they were doing the work, but the filmmaker explained why the opposite was true:
While it didn't affect the performances too much, there was still some unique work that had to be done with how the characters looked on screen. A benefit of dolls looking like dolls is that they don't really have to look life-like from the neck down, but what is definitely important are the details in the faces. This was achieved with great thanks to the power of modern cameras and computers, which were able to capture the likenesses of the stars and basically wrap the faces around the CGI models. Zemeckis explained,
As the writer described, this was the greatest challenge of the performance capture work for Welcome To Marwen. While technology has certainly come a long way, artists have still not entirely perfected creating hyper-realistic CGI that works as well when figures are moving as staying still. Robert Zemeckis believes we are getting closer and closer to that landmark, though, and it's noteworthy that the work on his latest feature is certainly impressive.
With the goals seemingly in sight, the natural follow-up is asking about what's going to help the technology get to that place. It's already getting simpler for filmmakers to use, with people like Andy Serkis also pushing boundaries, and what's really needed to advance further is just machines that can process more and process faster than the computers that are currently in use. Said Zemeckis,
You can watch Robert Zemeckis discuss his use of motion capture in the making of Welcome To Marwen, as well as his thoughts on the technologies future by clicking play on the video below.
Welcome To Marwen centers on Steve Carell as Mark Hogancamp, but the ensemble cast features some truly fantastic talent, including Leslie Mann (a 40 Year Old Virgin reunion), Gwendolyn Christie, Janelle Monae, Diane Kruger, Merritt Wever, Leslie Zemeckis, Eiza González, and Neil Jackson. The film is arriving in theaters as part of one of the biggest weekends of 2018, set to hit the big screen this Friday, December 21st. After you see it, be sure to return for some of our special spoiler coverage here on CinemaBlend, and also be sure to be on the lookout for more from my interview with Robert Zemeckis.
NJ native who calls LA home; lives in a Dreamatorium. A decade-plus CinemaBlend veteran; endlessly enthusiastic about the career he's dreamt of since seventh grade.
Your Daily Blend of Entertainment News
Thank you for signing up to CinemaBlend. You will receive a verification email shortly.
There was a problem. Please refresh the page and try again.