Could Aquaman's Orm Ever Team Up With Other DC Villains? Here's What Patrick Wilson Says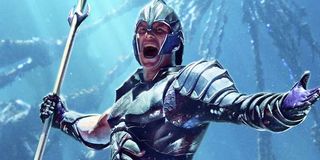 We're about to get into some pretty big Aquaman spoilers, so now's a good time to bail on this article if you haven't caught the movie yet. When I say spoilers, I mean immediate spoilers.
Given Orm is still alive and around at the end of Aquaman, it's not a surprise that someone asked Patrick Wilson if he might make a comeback with another villain in an upcoming movie. If you were hoping Orm might eventually team up with some other DC villains, Patrick Wilson has revealed it might be difficult, but he would eventually like to see how that would pan out. He said he "would" like to work with other villains, explaining more about why it didn't pan out this time around:
Granted, Aquaman does essentially feature a team-up between Orm and another DC villain. Black Manta is involved in the plot after Jason Momoa's Aquaman leaves Black Manta's father to die in a hijacked submarine, causing Black Manta to seek revenge. This eventually leads to a post-credits scene that reveals Black Manta is still around for potential future projects. However, in the case of Orm, the Atlantean never really makes his way to the surface or has moments with people outside of Atlantis in the same way that Mera does in the movie. That's something that Wilson could see playing out down the line.
The actor also told Heroic Hollywood that it might be difficult for Orm to pull off more villainous team-ups given the fact he doesn't see Orm as a total villain. (In the movie, Orm settles down at the end after Atlanna reappears and after Arthur Curry shows him mercy, leaving his future uncertain.)
In the comics, there is some precedent for Orm to work with other villains. He's teamed up with the likes of Penthiselea to cause problems between the Atlanteans and the Amazons in print. That's a villainous plot that could eventually incorporate Wonder Woman, whom Jason Momoa has already said he would love to see Aquaman onscreen opposite again.
Although DC and Warner Bros. have spent the last several years releasing a slew of movies to entice fans, we're just now approaching the point where there is getting to be some cohesion in the universe. Villain team-ups really do look as if they could be a thing of the future, especially if there's another hero team-up like Justice League 2 that eventually gets made down the line. (Although that project is currently on hold.)
However, with Orm's mom Atlanna back in the picture and Arthur Curry installed as the new guy in charge underwater, perhaps Orm will be able to take a break from the villainous shenanigans for a little while. If a sequel happens, perhaps we'll just get him in a fun bickering-with-Arthur capacity.
Patrick Wilson has worked with James Wan previously in the Conjuring franchise films and so joining Aquaman was a no-brainer for the actor. In fact he previously said he had such implicit trust in Wan that he signed on before he had even seen the script for the movie.
It all seems to have worked out pretty well for Patrick Wilson and everyone else involved with the DC blockbuster. Currently, Aquaman has made a boatload of money worldwide and is expected to be approaching $500 million soon. After opening this weekend domestically, the movie is expected to win the box office here as well. It's also running positively on Rotten Tomatoes and fan reviews for the film seem even higher, proving there is an appetite for a dude who can communicate with fish out there.
After a few lackluster releases from DC starring some major heroes, the spotlight has been on Aquaman, so it's a big deal that the movie really seems to be resonating with fans. Warner Bros. needed a superhero win to get people excited about the universe and proving that Aquaman can go toe-to-toe with other heroic characters should pave the way for other lesser-known or oddball heroes to also get their own projects. If Aquaman does well overall, perhaps we'll see an Aquaman 2 sooner rather than later. If that's the case, I'd expect Orm to at least be involved somehow.
While we wait to see how Aquaman ultimately pans out at the box office, DC and Warner Bros. are already gearing up for Shazam!--another interesting pick for a solo movie--and more hero projects in 2019. You can take a look at what is coming with our full guide. Or take a look at the full schedule to see the entire list of projects coming to theaters in the next year.
Amazing Race & Top Chef superfan with a pinch of Disney fairy dust thrown in. Theme park junkie. If you've created a rom-com I've probably watched it.
Your Daily Blend of Entertainment News
Thank you for signing up to CinemaBlend. You will receive a verification email shortly.
There was a problem. Please refresh the page and try again.