Thanos' Infinity War Snap Apparently Took Out This Elf On The Shelf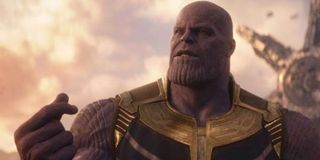 Elf on the Shelf is a time-honored tradition in a lot of households and one clever blogger and NFL analyst came up with an amazing and pop culture-oriented way to close out this Elf on the Shelf season. He shared the results on social media, and yes, Thanos is involved. Take a look at the Avengers: Infinity War-related Elf on the Shelf endeavor below.
Joe Goodberry is generally a guy that has more thoughts about football than Marvel on social media, but he really had a grand finale for his Elf on the Shelf project this year. In the post, he even mentions that his children are going to have to wait until next year to see if the Elf on the Shelf comes back.
I'm sure Joe Goodberry's household isn't the only household in the country to come up with this particular Elf on a Shelf trick. Regardless, doing it this year correlates with Avengers: Endgame's 2019 release date, making the Thanos-related Elf on the Shelf a very timely Elf trick. Whatever happens in Endgame will likely play out in the Goodberry household as well. Not a bad way to close out a holiday tradition, at all.
If you also thought of this Elf on the Shelf moment in your own household, kudos to you. Your brave Elves on the Shelves will likely have a chance at making a triumphant return, but only if what Black Widow and Captain America are alluding to in the official trailer for the new movie does pan out in an exacting way, with the help of the likes of Ronin and Ant-man!
Back to Joe Goodberry's post in general, do click through because some of the comments are highly entertaining. My favorite comments is actually one of the early ones (shoutout to @WoodMania):
Obviously, Tom Holland's dusting during Avengers: Infinity War was a highly emotional moment, so maybe that joke isn't for everyone, but I'm working on Christmas morning, so I've got to take in the humor when it comes. Thanks for making my holiday a little bit more amusing, Mr. Goodberry. Be sure to keep us posted regarding the followup in 2019.
Luckily, we should be able to guess at the Elf on the Shelf's fate soon enough (even if he doesn't officially reappear until next holiday season). Avengers: Endgame officially hits theaters on April 26, 2019, thus wrapping up the end of Marvel's Phase Three and paving the way for a whole new set of Marvel heroes and movies. Take a look at what else Marvel has coming up with our full guide, or see what other movies you can take the whole family to next year with our updated movie premiere schedule.
Also, because now I'm super curious, what's the best Elf on the Shelf setup you ever pulled on your family?
Amazing Race & Top Chef superfan with a pinch of Disney fairy dust thrown in. If you've created a rom-com I've probably watched it.
Your Daily Blend of Entertainment News
Thank you for signing up to CinemaBlend. You will receive a verification email shortly.
There was a problem. Please refresh the page and try again.