The Avengers: Endgame Trailer Confirms A Shocking Death From Infinity War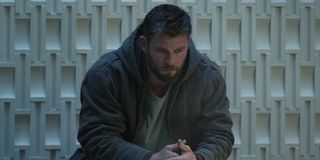 After months of not-so-patiently waiting, the first trailer for Avengers: Endgame is finally here. While brief and lacking in any action sequences, the first clips show the dark and dreary world after Thanos' finger snap of death (aka The Decimation) in Infinity War. And while you might blink and miss it, the Endgame trailer revealed that yet another fan favorite character seemingly faded to dust: Black Panther's Shuri.
In the above image, you see Mark Ruffalo's Bruce Banner watching a screen, which shows the countless victims of Thanos' snap. In addition to showing the images of Scott Lang (more on him later) and Peter Parker, Shuri's image briefly shows. As such, we can assume that T'Challa's genius kid sister actually faded to dust alongside her brother during the snap. And that has grave implications for the future of Wakanda.
News of Shuri's presumed death will be shocking for the hardcore Marvel fandom, who have been closely following any news in the wake of Infinity War. This includes comments by Angela Bassett, which seemed to indicate that Queen Ramonda and Shuri both survived the snap. Now it seems Bassett may have been mistaken, as Leitia Wright's character has perished.
With both T'Challa and Shuri gone in the wake of Thanos' snap, Wakanda is seemingly leaderless. Not long after T'Challa exposed the country to the world in Black Panther's mid-credits scene, it seems that the futuristic and vibranium-infused society has lost the two heirs to the throne. So who could take over, M'Baku or maybe Okoye?
After Black Panther faded to dust in front of Okoye's eyes, the fandom immediately began theorizing about who could take on the mantle. Shuri would be next in the blood succession, and the fans were hoping that female Panther might be present in Avengers: Endgame. But now that she seems to have died as well, it's unclear if/how the Black Panther line could even continue. After all, Killmonger seemingly destroyed all the power-granting heart shaped herbs during Black Panther.
Of course, Shuri's death likely will not last very long. Marvel fans are expecting the effects of Thanos' snap to somehow be reversed during Avengers: Endgame, although how is a complete mystery. Time Travel is a popular theory, likely through Ant-Man. Because while the world things Scott Lang also faded to dust, the fans know better.
Ant-Man and The Wasp's mid-credits scene revealed the title character was actually trapped in the Quantum Realm when the event occurred, which has been teased to have vast powers. And with Lang popping up in the final moments of the Endgame trailer, it's clear that he's going to shake things up, and possibly kickstart the plant to change the world.
Of course, there's always another possibility regarding Shuri's fate: the trailer is purposefully throwing us off. As it stands, there was very little actual footage debuted in Avengers: Endgame's first clips. Every OG Avenger gets a quick feature, but the trailer was crafted as to not actually spoil much about the upcoming blockbuster's contents.
With a series of months left before it arrives at its new April release date, Marvel Studios is likely going to keep its cards close to the chest, and try to focus on the forthcoming release of Captain Marvel.
Filmmakers like The Russo Brothers and Deadpool 2's Ryan Reynolds have both admitted to using extra or fake footage in trailers, in order to ensure moviegoers are genuinely surprised once they hit theaters. Marvel has managed to keep the contents of Avengers: Endgame completely under wraps until now, and they have the power to control the flow of information and narrative surrounding the upcoming blockbuster.
As such, it might make sense to throw the fans off with some false information. All the editors would have to do was swap out different photos for Bruce Banner to gaze upon in horror. While Spider-Man's fate has been widely publicized as one of Infinity War's biggest heartbreaking moments, Shuri's fate was left ambiguous at the end of the movie. She was last seen making the final touches on the backup of Vision's psyche, before being attacked by Corvus Glaive during the Battle of Wakanda.
If The Russo Brothers and the folks at Marvel are actually pulling one over on the fans over Shuri's presumed death, then it would certainly make sense. That would explain Angela Bassett's comments about her survival, while also possibly bringing hope back to the female Black Panther rumors. So while Avengers: Endgame's first trailer did provide a bevy of answers, the limited footage caused just as many new questions as well.
Ultimately, it seems that Shuri will likely play a larger role in the Marvel Cinematic Universe to come. Kevin Feige has already stressed the importance of T'Challa's genius sister, while also maintaining that the future of Marvel is female. As such, it would be a great time for Shuri to step up outside of just the Black Panther franchise. That is, if she's still alive.
With so many of Marvel's finest coming to the end of their contracts with Avengers: Endgame, there is bound to be a passing of the guard. If Robert Downey Jr. decides to step away from his role as Tony Stark (who looks to be in bad shape during Endgame's trailer), then another character would have to take over as the tech whiz of the Avengers. Barring The Fantastic Four's Reed Richards joining the MCU, Shuri and her vast knowledge of vibranium seems like the perfect choice.
It should be interesting to see how much more the Black Panther characters and Wakanda itself continue to become integral parts of the Marvel Cinematic Universe. While they were only just introduced this year, Black Panther's massive success has created a new set of fans. Wakanda came into play majorly during the third act of Infinity War, so we'll see how Endgame factors in the new setting.
All will be revealed when Avengers: Endgame arrives at its new date on April 26th. In the meantime, check out our 2019 release list to plan your trips to the movies in the New Year.
Corey was born and raised in New Jersey. Double majored in theater and literature during undergrad. After working in administrative theater for a year in New York, he started as the Weekend Editor at CinemaBend. He's since been able to work himself up to reviews, phoners, and press junkets-- and is now able to appear on camera with some of his famous actors... just not as he would have predicted as a kid.
Your Daily Blend of Entertainment News
Thank you for signing up to CinemaBlend. You will receive a verification email shortly.
There was a problem. Please refresh the page and try again.