The Top 10 Movies Of 2018, According To Sean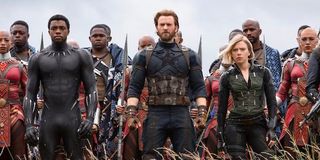 Personally, I will remember 2018 as the year where the blockbusters outperformed the arthouse, prestige pictures. Franchise chapters and summer smash programming proved to be far more entertaining, and ultimately rewarding, than the so-called "important" pictures that tend to contend for awards. As a result, my annual year-end list of my absolute favorite movies from the past frame contains way more mainstream, blockbuster-type movies than in recent years (including the top two slots, which are deeply personal to me).
I don't think I'm alone in this deduction. There's a reason that Marvel Studios believes it will be in the Best Picture conversation early in 2019 with Black Panther. And there's a reason why a genre hit like A Quiet Place is riding the same momentum as Jordan Peele's Get Out last year, collecting year-end accolades and landing on multiple Top 10 lists (mine, included).
And yet, as I finalized my list, I still couldn't find spots for a handful of movies I deeply loved, from Steven Spielberg's VR fantasy Ready Player One to Barry Jenkins' pure-hearted drama If Beale Street Could Talk. I adored the genre escapism of both Upgrade and Bad Times at the El Royale, and recommend both wholeheartedly. But when all is said and done, these were the 10 best movies I saw in 2018. What were yours?
10. Black Panther
Making superhero movies based on the major players should be easy. Captain America, Hulk, Superman and Wonder Woman all come with defined characteristics that have helped make them household names. It's when you get down to the Ant-Mans, the Cyborgs and, yes, the Black Panthers of the world that things get more challenging.
No one told Ryan Coogler this, though, because he effortlessly breathed life into the story of T'Challa (Chadwick Boseman, classically cool) and the hidden nation of Wakanda, crafting a wondrously unique corner of the MCU in a vibrant and thrilling package. Black Panther is rightly celebrated for its successful representation of the African-American community. But no matter your background, you easily could connect with the sci-fi gadgets, the volatile villains (played by Andy Serkis and Michael B. Jordan), and the inherent need to educate and empower that came with Coogler's story. Wakanda, forever.
9. A Quiet Place
Horror seems to be the genre where up-and-coming filmmakers can hone their craft, define their voice, and build an audience as they test the rules of traditional filmmaking and push the envelope a tad. Much like Jordan Peele did with the socio-political Get Out last year, this year's standout belonged to John Krasinski, of all people. Seriously, raise your hand if you thought "Jim from The Office" had this type of storytelling effort in him.
Krasinski wrote, directed and starred in this riveting and wildly original story about a family trying to survive in a harsh new reality. Creatures suddenly begin attacking people on our planet who make any sort of noise. That's it. That's the whole concept. Make a noise, and you're likely going to get mauled by a feral being. So the family struggles to be quiet. And in the process, Krasinski re-educated whole audiences on how to properly behave in movie theaters. A Quiet Place held us in the palm of its hand, and Emily Blunt gave the second best performance in a horror movie (props to Toni Collette for holding down Hereditary).
8. Paddington 2
Movies shouldn't be as delightful as Paddington 2. Sequels especially shouldn't be as delightful. Usually, the magic of a heartwarming tale wears off in the second chapter, as the cash-grab aspect kicks in. And yet, director Paul King actually improves on his original Paddington with a winning story that builds on everything we came to love about the tender bear and the British family who now call him son.
The two Paddington movies play like family films filtered through a Wes Anderson lens. It's true. Paddington's trip to prison in this one actually feels like a leftover sequence from The Grand Budapest Hotel. It displays the same rhythm and idiosyncratic approach to dialogue and visuals. But basically, every decision made in the creation of Paddington 2 is aimed at delighting the audience, no matter your age, from the casting of Brendan Gleeson and Hugh Grant in key supporting roles to the development of Ben Whishaw as the voice of the endearing bear. This one is a pure delight.
7. Eighth Grade
In a year of incredible horror movies, from A Quiet Place and Hereditary to the return of Halloween, no scene unnerved me quite so much as shy Kayla (Elsie Fisher) working up the nerve to head out to a swimming pool at a "cool kid" birthday party that she somehow scored an invite to. Eighth Grade director Bo Burnham captures the anxiety, hope, terror and elation that can occur in the same minute of the life of a teenager. It's about as exhilarating as cinema can get in 2018.
The revelation of Eighth Grade, though, is Fisher. Best known for voicing one of the Despicable Me sisters, Fisher wears Kayla's adolescent heart on her sleeve to play a middle-schooler on the cusp of an exciting transition, all in the age of the omnipresent pressure of social media. With Burnham's guiding hand, Fisher creates a snapshot of the current generation that manages to say something relevant to all of us, no matter what year we happened to endure the highs and lows of the grade of the title.
6. Widows
Every single scene in Widows features something impressive. It might be a line reading. Or an unexpected plot turn. Or a fiery performance (or three, or four). But in every scene, SOMETHING happened that made me sit up, pay closer attention, and lean deeper into the story.
Then I remembered that Widows is a Steve McQueen joint, and all of that made perfect sense. McQueen is a master filmmaker, who has riveted audiences with searing dramas like Shame, Hunger, and 12 Years a Slave. The fact that Widows is a side-step into straight crime-noir storytelling doesn't mean that McQueen forgot the tools of his craft. He just applies all of his gifts to a gritty smash-and-grab story, and recruits one the year's finest ensembles to do it. Widows hums with tension, frustration, fear and run-for-your-life energies. It's a knockout thriller.
5. Three Identical Strangers
I am a storytelling junkie. It doesn't matter the medium, I'm just a giddy sucker when it comes to hearing a well-spun yarn. And no story in 2018 held me tighter than the one unfolding in Tim Wardle's Three Identical Strangers. This year was ridiculously good for documentaries (hunt down Free Solo, Won't You Be My Neighbor and many more from 2018). But Strangers stuck with me long after the story concluded, showing the true power of a wonderful narrative.
The less you know about where this story is going, the better. The hook goes as such: Three men who were separated at birth reunite by accident as adults, and begin exploring their past. You think you know where it's going. But you really don't. And by the time you absorb all of the truths of Three Identical Strangers, you'll likely be as drastically changed as the men in the movie were in their real lives.
4. Roma
I wasn't prepared for Alfonso Cuaron's personal, devastating masterpiece. In fact, the full brunt of Roma's impact didn't truly hit me until my second viewing (both on the big screen, thank Jesus for that). Roma is a small movie written very, very large. It dwells on the miniscule life decisions of a Mexican family in 1970 -- modeled after Cuaron's own family during his youth. But the impact weighs heavy as life continues to unfurl, and your connection to the characters should reel you in as Cuaron, the master storyteller, sticks his landing.
And yet, Roma is not for everyone. I get that. It's black-and-white. It's in a foreign language. It moves slowly, and purposefully, though you don't get the point of the story's motions until the entire painting has been filled in. It's the journey, as well as the destination. For all of these reasons, I adore Roma BECAUSE of how Cuaron achieved it. And I adore Netflix for letting him do it the way he needed to. It's a devastating and beautiful memory, brought to life in screen. I'll always treasure it.
3. A Star is Born
There's no way A Star Is Born should be as good as it is. Bradley Cooper is a first-time director (shout this louder, so the people in the back can actually hear it). He's also acting in the film, as well as singing original songs he helped craft and PLAYING THE DAMN GUITAR on actual stages in front of real crowds to capture the authenticity of his story. You could tell me Cooper worked behind the stove at craft services, and I'd believe it.
But Cooper's passion shines through A Star Is Born, and makes this remake of a remade story feel fresh and unique. Oh yeah, he also cast Lady Gaga in the lead role, which is such a stroke of genius, it's almost overlooked. Don't make that mistake. The global superstar is remarkably relatable as a struggling singer-songwriter overcoming insecurity to climb to the top. Star is romantic, electric, tragic, and realistic. It's phenomenal work from the entire cast, and a Best Picture win would be perfectly fine with me. Just sing "Shallow" live on the Oscar stage, please, Cooper and Gaga, so I can die a happy man.
2. Spider-Man: Into the Spider-Verse
Spider-Man is my all-time favorite character. I grew up reading Spidey comics. My first-born son is name Peter. I connect with this character on a deeply emotional level, and no story has captured the soaring peaks and devastating valleys that come with BEING Spider-Man as the animated Into the Spider-Verse. It's the most creative, original, hilarious, affecting and brilliant take on the Spidey narrative.
And it belongs to all of us. Into the Spider-Verse teaches us that anyone can wear the mask, so it switches gears from Peter Parker (Jake Johnson) to Miles Morales (Shameik Moore). And to Spider-Gwen (Hailee Steinfeld). And Spider-Man Noir (Nicolas Cage). And even Spider-Ham (John Mulaney)! But the movie itself never loses sight of the humanity that's essential to the core of Spider-Man. And so, while Spider-Verse wows with groundbreaking animation and a kick-ass hip-hop score, it's the bone-deep understanding of its characterizations that catapulted this masterpiece to number 2 on my list. What a gift of a movie.
1. Avengers: Infinity War
This movie shouldn't exist. A story that was 10 years, and 19 films, in the making. And it paid off on every single level. Yet, I still think that we take for granted the fact that Joe and Anthony Russo pulled off the impossible. Consider this statement. There's a scene in Avengers: Infinity War where Captain America, Black Widow, Bruce Banner (wearing Tony Stark's Hulkbuster armor), Bucky Barnes, Vision and Scarlet Witch fight alongside Black Panther in the nation of Wakanda, only to be rescued by the last minute arrival of Thor, Rocket Raccoon and Groot. And in context, it all makes total sense.
Excelsior, dear sweet Marvel Studios.
I understand the critique about Infinity War. Some view it as incomplete, because it dangles its characters on a cliffhanger. I disagree. I just few it as the one movie (so far) in the MCU where the villain happens to win. That's possible. It's also satisfying. For so many reasons, Avengers: Infinity War is the best movie I saw in 2018. It juggles an INSANE amount of story, and gives every character a proper due. It features eye-popping special effects, and moves like an absolute freight train. The worst thing about Infinity War is that it's so good, Avengers: Endgame has ridiculously large shoes to fill. But in the Russos (and Markus and McFeely), I have grown to trust. Make Mine Marvel, now and forever.
Sean O'Connell is a journalist and CinemaBlend's Managing Editor. He's frequently found on Twitter at @Sean_OConnell. ReelBlend cohost. A movie junkie who's Infatuated with comic-book films. Helped get the Snyder Cut released, then wrote a book about it.
Your Daily Blend of Entertainment News
Thank you for signing up to CinemaBlend. You will receive a verification email shortly.
There was a problem. Please refresh the page and try again.