J.K. Rowling Hinted At Credence's Crimes Of Grindelwald Twist Years Ago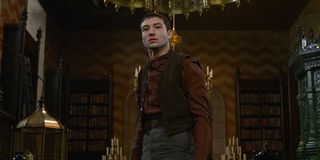 Warning: The following contains massive SPOILERS for Fantastic Beasts: The Crimes of Grindelwald!
It's been over a month since Fantastic Beasts: The Crimes of Grindelwald was released, but Potterheads are still reeling from the story's final twist that saw Gellert Grindelwald reveal to Credence Barebone that he is in fact Aurelius Dumbledore. It was a shocking and confusing revelation for fans that seemed to come out of nowhere. However, it turns out that in true J.K. Rowling fashion, the author and the film's screenwriter hinted at the twist years ago.
On the "Answers" page of J.K. Rowling's official website, there is a banner at the top that, amongst other things, shows a copy of Loeb Classical Library's Marcus Aurelius, which contains what is more commonly referred to as the Roman Emperor's Meditations. So right at the top of J.K Rowling's own website, under the page labeled "Answers," something we are all looking for after the Credence reveal, is the name Aurelius. Take a look:
The name of the fourth, and previously unknown, Dumbledore sibling is right there, plain as day on J.K. Rowling's website. You have to appreciate the cleverness and how much fun J.K. Rowling is having with the fans by putting it on the "Answers" page too.
This incredible hint isn't a new addition to J.K. Rowling's site after the release of Crimes of Grindelwald either. Hypable, which noticed the hint, dug into the site's source code and found that the image was uploaded all the way back in October of 2016. Fantastic Beasts and Where to Find Them, the first film in this pentalogy, where we first met Ezra Miller's Credence Barebone, didn't come out until November of 2016.
That means that J.K. Rowling was throwing out a hint about the second film in the franchise before the first film even came out. That is some truly wild stuff. It's amazing because despite the fact that it has been out there in plain view for fans to spot for ages, there's really no way anyone could have known what it meant prior to the reveal in the film.
We thought we knew everything we needed to know about, or at least the number of, Dumbledore siblings. Thus the hint was both obvious and opaque. This is classic J.K. Rowling too. The author planted seeds throughout the early Harry Potter novels that seemed minor or inconsequential at the time, but wound up playing a major part down the line and in the series' endgame.
While I personally have major reservations about the Credence twist, this hint years ago reinforces the fact that J.K. Rowling has this whole story plotted out in her head, and hopefully it will all pay off in a satisfactory manner in the end.
For those that slept through history class and thought Gladiator would be a good substitute, Marcus Aurelius (played by original Dumbledore actor Richard Harris in the aforementioned film) was a Roman Emperor who ruled the empire from 160 to 180 A.D. Known as The Philosopher, Marcus Aurelius was the last emperor to rule over what is considered the Pax Romana period, which saw peace and stability in the empire.
Marcus Aurelius ruled alongside his adoptive brother Lucius Verus for a period of time before Lucius died. That is particularly interesting considering the reveal about Aurelius and Albus Dumbledore being siblings. One has to wonder if J.K. Rowling was merely taking a historical name for her character because she appreciated the philosopher's writings and his name, or if she is actually drawing inspiration from his life.
This hint on J.K. Rowling's website will likely now set off a period of serious investigation for internet sleuths. Scouring Marcus Aurelius' Meditations for clues about where the Fantastic Beasts story might go seems like one avenue. Another is to look for more signs and symbols on J.K. Rowling's website. The page where we see the name Aurelius also shows images of a scribbled on paper, a pair of glasses and a pinecone. What does the pinecone mean?!?!
Fortunately, we shouldn't have to wait until the fifth film to find out some answers to our many questions. J.K. Rowling has hinted that "Answers are given" in Fantastic Beasts 3, so I imagine once that film is released, we can expect to find out plenty of hints that missed over the next two years.
Fantastic Beasts 3 is scheduled for release on November 20, 2020. For movies hitting a little bit sooner, check out our 2019 release schedule.
Your Daily Blend of Entertainment News
Nick grew up in Maryland has degrees in Film Studies and Communications. His life goal is to walk the earth, meet people and get into adventures. He's also still looking for The Adventures of Pete and Pete season 3 on DVD if anyone has a lead.