The Favourite's Olivia Colman Says Kissing Co-Star Rachel Weisz Was Like 'Winning The Lottery'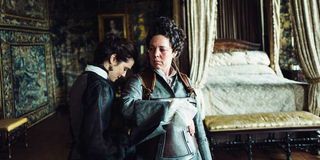 Some minor spoilers for The Favourite can be found throughout this story if you haven't caught the awards contender yet! In the meantime, be sure to check out one of our other excellent articles.
The Favourite has been out for a few weeks now, and if you've caught the historical-oriented flick you may already know it delves into delicious romance between Olivia Colman's Queen Anne and Rachel Weisz's Lady Sarah, with some Emma Stone thrown in for good measure. Colman recently revealed that kissing her co-star could have been way worse, noting it was like she had "won the lottery." She said in a recent interview:
According to Olivia Colman, both she and Rachel Weisz spent enough time together prior to filming their love-making scenes for The Favourite that kissing her co-star ended up being an easy and fun shared experience.
If you are going to have to make out with someone on the big screen, it might as well be with someone you really like.
The Favourite follows Olivia Colman as Queen Anne, a ruler who not particularly interested in ruling and more interested in having fun. At the start of the movie, she spends a lot of time with her advisor Sarah, who takes control of a lot of the political machinations within her kingdom. Sarah is able to maintain this power by keeping Queen Anne happy, in and out of the bedroom, although she does seem somewhat fond of Queen Anne. All of that changes when Sarah's distant relative Abigail shows up on the scene. Abigail has been living a life of poverty and will do anything to find a way out.
That also includes keeping Queen Anne happy in the bedroom. While Olivia Colman says scenes with Rachel Weisz were filmed without incident, on the other hand, when it came time for Emma Stone's Abigail to enter the foray, things got a bit stickier, no pun intended. Speaking to the BBC program Sounds, Colman revealed that she and Emma Stone really struggled with their sex scene.
Emma Stone has previously spoken out about sex scenes in The Favourite, discussing why she chose to get nude on camera for the first time. She said late last year that Olivia Colman didn't want her to get naked and that she was not pressured but that she felt her body being in the scene fit the movie better.
Knowing what we know now from both female actresses, it's easy to see how it took a few takes to make that Favourite scene work---it was perhaps, not their "favorite."
Still, Olivia Colman only has nice things to say about director Yorgos Lanthimos, noting that the script was so solid she basically took all of her cues from it; which is good, because Colman also said she basically knew nothing about Queen Anne before embarking on filming The Favourite.
If you've seen The Favourite, the comedic narrative does take some cues from the real-life history of Queen Anne and Sarah Churchhill, whose relationship really did turn sour, after which a new woman, Abigail Hill, sought to be of influence in Queen Anne's court. Rumors of lesbian romance have largely remained rumors in the years after Queen Anne's reign.
As a movie, some of the events that play out on the big screen are accurate, although director Yorgos Lanthimos has been clear in the press leading up to the movie that "a lot aren't" accurate. Still, all three women in the movie (and a side shoutout to Nicholas Hoult) put in great performances, and The Favourite has already been on a lot of awards shortlists this year. Although some historical movies have been dinged for accuracy this year, The Favourite has largely been seen as more of a comedy than an accurate biopic and has escaped such accuracy notice for the most part.
Coming up, The Favourite will have a showing at this year's Golden Globes Awards. The flick has been nominated for Best Motion Picture, Musical or Comedy. In addition, Olivia Colman, Rachel Weisz and Emma Stone have all landed nods. You can see whether or not the film will end up being a big winner very soon. In fact, the 76th Annual Golden Globes will officially be airing this Sunday night, only on NBC.
Oscar nominations aren't out yet and there are a few other nominations still set to be announced, but we'll be sure to keep you posted as the awards season progresses this year. For now, you can catch The Favourite in theaters. In addition, you can see what else is starting to trickle into theaters in 2019 with our full movie premiere schedule. There's a lot of good stuff coming this year, from period movies to superhero flicks.
Reality TV fan with a pinch of Disney fairy dust thrown in. Theme park junkie. If you've created a rom-com I've probably watched it.
Your Daily Blend of Entertainment News
Thank you for signing up to CinemaBlend. You will receive a verification email shortly.
There was a problem. Please refresh the page and try again.