How Captain Marvel's Ben Mendelsohn Feels About Thanos Having A Skrull-Like Chin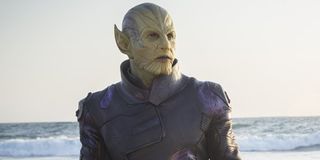 Anna Boden and Ryan Fleck's Captain Marvel will be introducing audiences to the aliens known as the Skrulls for the first time in live-action, but some fans may notice a familiar trait in their design. Specifically, they have multiple vertical lines extending from their lower lip to their chin -- a look that was similarly sported by Thanos last year in Avengers: Infinity War. Most probably won't pay too much attention to it, but it turns out that Captain Marvel star Ben Mendelsohn isn't one of those people:
Last summer I had the wonderful pleasure of participating in a laugh-filled roundtable interview with Ben Mendelsohn (in full make-up) on the set of Captain Marvel, and in a conversation filled with ridiculous mini-rants this one was one of the best. One of the reporters in the room asked the actor about the similar chins shared by Thanos and the Skrulls, and Mendelsohn let it be known that he and his alien brethren are not too happy about the Mad Titan aping their look.
In Ben Mendelsohn's defense, while Thanos did beat the Skrulls to the big screen by a few years, the green aliens were rocking the striped chin look more than a decade before the giant purple warlord in the comics. Jack Kirby drew the Skrulls with the feature in 1962's Fantastic Four #2 -- their very first appearance -- and they have had the same look ever since. Meanwhile, Jim Starlin didn't introduce Thanos until 1973, though the whole look was definitely more inspired by the DC Comics character Darkseid than the shapeshifting predecessors.
So is Thanos "Skrullin?" The answer is, "not really." In the comics continuity there is some link between Skrulls and the Mad Titan, in that they are both generations removed from genetic meddling by the beings known as the Celestials, but even on that evolutionary chart they exist in two separate pools: the Deviants and the Eternals. Basically, there is no real reason why they have similar chins outside of the fact that it kind of looks cool and makes them look different than humans in a significant way.
We haven't had the chance to see too much of the Skrulls in action -- certainly not as much as Thanos (who will be back in Avengers: Endgame) -- but the lack of big screen Skrull action will soon be coming to an end. Armed with a cast including Brie Larson, Samuel L. Jackson, Djimon Hounsou, Lee Pace, Lashana Lynch, Gemma Chan, Annette Bening, Clark Gregg, and Jude Law in addition to Ben Mendelsohn, Captain Marvel will be arriving in theaters nationwide on March 8th.
Your Daily Blend of Entertainment News
Assistant Managing Editor
NJ native who calls LA home and lives in a Dreamatorium. A decade-plus CinemaBlend veteran who is endlessly enthusiastic about the career he's dreamt of since seventh grade.