Do We Even Need A Star Wars: Episode 9 Super Bowl Trailer?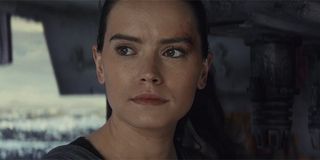 The Super Bowl is this Sunday and for movie fans, that means trailers. Many of the year's biggest movies will look to make a splash with trailer debuts during the big game while the whole country is watching. 2019 has no shortage of huge movies we want to see trailers for, but since we've already seen the first trailer for Avengers: Endgame, there's no question which movie trailer we're most itching to see next.
While a contest of good versus evil is taking place on the field, will we get our first glimpse at the final battle between light and dark in a galaxy far, far away?
There have naturally been rumors that we will see the first teaser for Star Wars: Episode IX during the Super Bowl; one rumor even had there being three 30-second spots across the broadcast to make up a full teaser trailer. Nothing is confirmed at this point so we are left to speculate, but while I think it is safe to say that we all want to see something from Star Wars: Episode IX, including a title, it is a separate question of whether or not we need it at the Super Bowl.
Do we even need a Star Wars: Episode IX Super Bowl trailer? And a slightly different question, but perhaps just as important, does Star Wars: Episode IX need a Super Bowl trailer?
"Need" is a strong word and in theory, none of us will die of broken hearts like Padmé Amidala if we are denied a trailer on February 3. There will be more than enough trailers to sate our movie-fan desires during the big game. That is the nature of this platform and it is also one of the reasons why we don't really need a Star Wars: Episode IX trailer this Sunday.
Up until last year's Solo: A Star Wars Story, none of the previous Disney-era Star Wars films have had trailers during the Super Bowl. Though, Solo had a ton of work to do to drum up awareness and interest for its May release as opposed to the movies that opened in December. None of the Star Wars movies that skipped the Super Bowl have suffered at the box office, and trailer or not, Star Wars: Episode IX will still make a ton of money.
There is also the argument that, as Star Wars fans, we might not really want the first trailer we see to be during the Super Bowl. This is the conclusion of the Skywalker Saga, the culmination of 40 years of storytelling in the biggest franchise ever. Do we really want our first look at this pivotal moment in cinematic history to come between commercials for watered down swill and luxury automobiles?
Moreover, we want our first look to be more than 30-seconds. The first teaser trailer for Star Wars: The Force Awakens from fall of 2014 was a minute and a half. Sure Disney could pony up for a longer spot or multiple commercials, but that is far from the ideal experience for our first look at this film. And while Star Wars would obviously be the biggest talking point (unless we get another longer look at Endgame), there will be competition for attention, from Disney itself among other movies. Episode IX should be the story, not part of it.
The release of a Star Wars trailer is an event unto itself and will garner plenty of fanfare whether it is released during Super Bowl 53, the next day, on a random Tuesday afternoon in the coming months, or at Star Wars Celebration in April. All that said, would I be excited as hell if we get a trailer during the Super Bowl? Absolutely.
Now, we may not need to see the first trailer for Star Wars: Episode IX during Sunday's Super Bowl, but we do need a trailer. This isn't Avengers: Endgame where we joke about how the film would still make $1 billion easy with no trailer at all. Sure, J.J. Abrams' sequel trilogy conclusion should still crush without one, but I don't think the franchise is in so confident a place right now that we would joke about it not having a trailer at all.
Because of where the Star Wars franchise is at right now, it needs a trailer and during the Super Bowl might be the best place to air the first one.
The reason that Super Bowl ads are so expensive (over $5 million for a 30-second spot according to Business Insider) is the sheer number of people watching, 103.4 million last year, gives brands, products and movies massive exposure. Star Wars: Episode IX might need that exposure to drive awareness and excitement.
Chances are if you read this site, you know exactly when Star Wars: Episode IX comes out, but not everyone reads this site or follows these things (losers!). By the time Star Wars: Episode IX releases, it will be a year and a half since the last Star Wars film (Solo) and two years since Star Wars: The Last Jedi. That's a fair bit of time and it wouldn't hurt to make a lot of people aware very quickly that this movie is on the way.
Beyond that, the last two movies haven't exactly been universally beloved. Star Wars: The Last Jedi was divisive and Solo: A Star Wars Story clearly didn't interest all audiences based on its disappointing box office. This franchise needs to change the narrative and get people excited again.
There may be a benefit to delaying the gratification of a trailer to build excitement, but if there is awesome footage that is 100% ready to go, why not show it to the widest audience possible and start to build momentum? If J.J. Abrams is really righting the ship, a killer trailer could begin the process of letting fans, that feel tired of Star Wars or sour about the last films, know what awesomeness is awaiting them at year's end.
Personally, if we are to get something, I would prefer a teaser with entirely old footage before a title reveal and a date for the first trailer release. That would drive awareness and excitement, but save the first look at the film for a platform where Star Wars would be the focus.
So no, we don't need a Star Wars: Episode IX trailer at the Super Bowl and there's even reason not to want one. But it might be a smart idea.
Star Wars: Episode IX opens in theaters on December 20. For all of this year's biggest movies, check out our release schedule.
This poll is no longer available.
Your Daily Blend of Entertainment News
Nick grew up in Maryland has degrees in Film Studies and Communications. His life goal is to walk the earth, meet people and get into adventures. He's also still looking for The Adventures of Pete and Pete season 3 on DVD if anyone has a lead.