How Star Wars: Episode IX Might Be Using The Knights Of Ren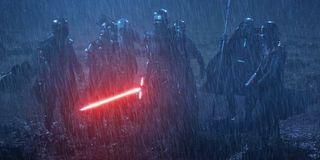 When he turned to the dark side and became Snoke's apprentice, Ben Solo took on a new moniker: Kylo Ren. But he's not the only individual in the Star Wars universe to go by Ren, though with the exception of briefly appearing in Rey's Force vision during The Force Awakens, the other Knights of Ren have not been shown onscreen. With Episode IX wrapping up the current Star Wars trilogy and the Skywalker Saga later this year, there've been questions about if the Knights of Ren will factor into the story. According to a new rumor, they will indeed, and the reason that they've been absent from the present day Star Wars events is because they were on a mission elsewhere in a galaxy far, far away.
Take this information with a grain of salt for now, but a new report claims that Star Wars: Episode IX sees the Knights of Ren returning from a location called The Beyond. No details were provided about what exactly The Beyond is, although with a name like that, perhaps it's located in the Unknown Regions, a largely unexplored area of the Star Wars galaxy where the remnants of the Empire fled after being defeated and slowly rebuilt itself as The First Order.
Whatever The Beyond is, apparently a threat will emerge from there during Star Wars: Episode IX that will make Kylo Ren "vulnerable." This threat will result in him and Rey reuniting and possibly working together again. Assuming this information is correct, then either the threat that's emerged is something that Kylo Ren or Snoke learned about and sent the Knights to investigate, or its the Knights themselves who are the threat. After all, there have been plenty of instances in Star Wars mythology of dark side users betraying one another.
Another interesting detail mentioned in Making Star Wars' report is that Star Wars: Episode IX features red stormtroopers that are called "Sith stormtroopers," although it sounds like this is just a behind-the-scenes classification rather than what The First Order calls them. Since Kylo Ren isn't technically a Sith, perhaps "Sith" is just being used as a synonymous term for "evil." Regardless, it would seem that these stormtroopers answer specifically to Kylo Ren and the Knights of Ren. Maybe they'll serve in a similar capacity as Snoke's Praetorian Guard.
You'll recall that during Star Wars: The Last Jedi, Kylo Ren killed Snoke and seized control of The First Order, so now the stage is set for Han Solo and Leia Organa's son to take control of the galaxy as Supreme Leader. However, if Making Star Wars' speculation is correct, that could lead to one or more members of the Knights of Ren attempting to eliminate Kylo so they can control The First Order. That's definitely one of the few scenarios where it's plausible that Rey and Kylo would have to work with each other again. Whether any part of this rumor is verified or shot down, fingers crossed that the Knights of Ren are still involved in Star Wars: Episode IX, as they're a story element that still hasn't been fully resolved.
Star Wars: Episode IX opens in theaters on December 20, so stay tuned to CinemaBlend for continuing coverage. For now, check out our 2019 release schedule to learn what other major motion pictures are arriving this year.
Your Daily Blend of Entertainment News
Connoisseur of Marvel, DC, Star Wars, John Wick, MonsterVerse and Doctor Who lore. He's aware he looks like Harry Potter and Clark Kent.
Your Daily Blend of Entertainment News
Thank you for signing up to CinemaBlend. You will receive a verification email shortly.
There was a problem. Please refresh the page and try again.