Fifty Shades Scenes That Weren't Sexy To Film In Real Life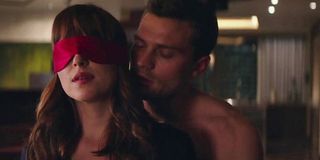 It's been a little over a year since Universal released the final movie in the Fifty Shades trilogy, Fifty Shades Freed. We've said our big screen goodbyes to Christian Grey and Anastasia Steele and author E.L. James has moved on to a different book series. However, the fascination surrounding the "kinky fuckery" between the two characters has not particularly waned.
As Fifty Shades of Grey, Fifty Shades Darker and Fifty Shades Freed were released, we've learned plenty about the ins and outs of making these romantic films and to be honest, a lot of times the scenes weren't so sexy in real life.
In particular, we hate to burst your bubble if you were a fan of Fifty Shades Freed's big ice cream scene, but don't take it from me...
That Ice Cream Scene
If you caught Fifty Shades Freed, you've already seen a moment between Christian and Ana when she's looking for ice cream in the kitchen. He ends up thrusting his partner onto a table in the kitchen and uses it for some naughty play.
As it turns out, however, Jamie Dornan wouldn't recommend it. He told NBC that the scene may have made ice cream more popular but it hasn't made ice cream more popular with him.
In addition, in order to amp up the sexy factor, the scene actually shot at night, meaning both Jamie Dornan and Dakota Johnson were tired, trying to pretend they were engaging in a super stimulating shot and basically just dealing with getting dirty in the process. According to Jamie Dornan, that's all in a days work, however. He said:
So, yeah. Ice cream 1, actors 0 after that scene.
Gluing On Underwear
Being naked onscreen generally doesn't involve actually being naked onscreen. Both Jamie Dornan and Dakota Johnson have talked about wearing modesty underwear while filming sex scenes—Dornan even calls his a "wee bag"—however, it's Dakota Johnson's modesty thong that sounds particularly uncomfortable.
The actress previously revealed she actually had to glue the dang thing on with a sticky substance to keep her private parts from showing on set for everyone to see. It didn't work all the time. As she put it:
Yes, they would sometimes superglue the modesty thong to her body in order to make it work, as Tim Gunn would say. Yikes.
Anything With A Whip
Ahead of the release of Fifty Shades of Grey, Jamie Dornan was happy to talk about the odd types of training he had to do for the movie, which involved working at learning to use the whip for scenes. It's a skill set he told Variety he is not talented at, leading those scenes to be decidedly unsexy on set.
In fact, to illustrate this point, he even compared whip usage to fly fishing.
The director of the first film, Sam Taylor-Johnson, even tried her hardest to keep the actor from harming himself and others on the Vancouver set. She also said:
Would you rather be sticky with ice cream or dealing with rope burn for several days? As Dornan said about Fifty Shades Freed, with the ice cream, at least you can always shower.
The Wedding Scene
Love can be really sexy, so it was surprising to learn that Christian and Ana's nuptials were anything but for those filming. Faking a wedding apparently was just as goofy and off-putting as some of the other stuff Dakota Johnson and Jamie Dornan had to do on set. In fact, the two kept dissolving into giggles, which made shooting the Fifty Shades Freed wedding scene particularly challenging. According to Jamie Dornan's account of filming,
Dakota Johnson looked more fabulous than she looked sexy in this scene anyway, and while I personally dig Jamie Dornan in a suit, I think most people probably prefer the Dornan of the shirtless variety, at least in these films. Still, due to the nature of the scene and how it stood out in stark contrast to some of the other scenes, the wedding ranks highly in unsexy scenes to film. At least this one wasn't sticky.
In addition, this one was decidedly more difficult to shoot than you might guess, especially considering the scenes appear at the very beginning of the film, before the couple can really get into any hanky panky on their honeymoon.
While leads Jamie Dornan and Dakota Johnson have continued to do press for new projects in the time since Fifty Shades Freed hit theaters -- A Private War and Robin Hood in Dornan's case and Suspiria and Bad Times at the El Royale in Johnson's case -- they still get plenty of questions about the four+ years they spent playing a kinky couple. I'm sure we'll learn much more regarding the ins and outs of the Fifty Shades films in the time moving forward, and we'll be here every step of the way.
In the meantime, you can learn about the new project E.L. James will be embarking on next with our full guide.
Reality TV fan with a pinch of Disney fairy dust thrown in. Theme park junkie. If you've created a rom-com I've probably watched it.
Your Daily Blend of Entertainment News
Thank you for signing up to CinemaBlend. You will receive a verification email shortly.
There was a problem. Please refresh the page and try again.